Hapa adds validated inline blister lidding foil printing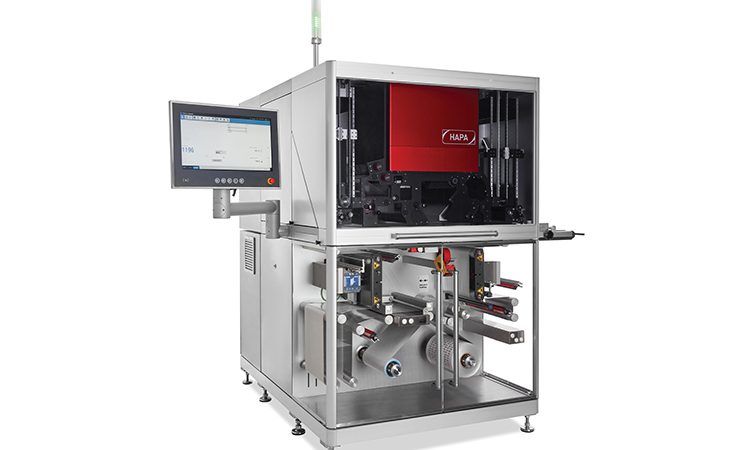 Web 4.0 5D includes Hapa's hiflow technology, which is designed for inline printing reliability and print-on-demand availability
Hapa has brought together printing and inspection in a single pre-validated package, with the aim of avoiding unnecessary downtime, artwork mix-ups and hidden costs arising in the supply chain.
The company noted that digital inline printing and inspection are 'natural partners' in a GMP medicine packaging environment. This innovation, which relies upon a common workflow, radically reduces system integration and validation efforts.
The inspection capability is being brought to two product lines – H382 and Web 4.0 5D. Both are designed for inline printing and come as standard in top (T) and stand (S) versions for direct inline integration into packaging lines. They also come packaged as roll-to-roll (R) configurations, allowing in-house offline packaging material production. For this new configuration, both systems are comprised of a pre-validated package featuring printing and inspection units sharing the same end-to-end PDF workflow. Technical integration of the inspection system in the workflow is made simpler, it is claimed, whilst the time spent on set-up and validation is 'substantially reduced'. Inspection encompasses the complete print image, printed data and codes, grading and colours. In addition, users have a single supplier for the entire system and are therefore shielded from typical interface problems.
Specifically referencing Web 4.0 5D, Hapa's head of product management, James Freer, noted that the system, 'avoids lots of the unnecessary downtime formerly associated with producing a 'golden image' as a reliable reference point. Inspection now takes place entirely on the basis of the original PDF.'
Web 4.0 5D includes Hapa's hiflow technology, which is designed for inline printing reliability and print-on-demand availability, and the company's patented curing technology that significantly reduces energy consumption in the machine. Thanks to the one-PDF workflow that underpins Web 4.0 5D, accidental mix-ups between different artworks are ruled out. Production capacity is better utilised as a result, and every single print project benefits from enhanced reliability.
'The often considerable but mostly hidden costs arising in the graphics chain, when processing different file formats and from validation efforts, are simply eliminated,' continued Mr Freer.