Optikett joins Optimum Group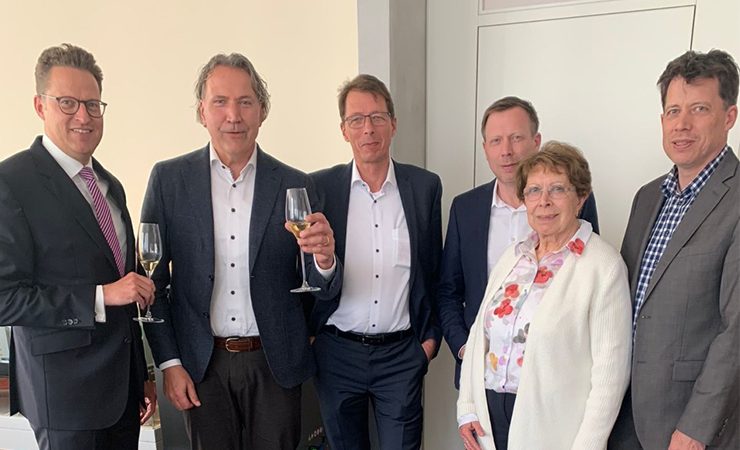 The Optikett and Optimum Group management teams celebrate the deal
German label printer Optikett has become the latest company to join Optimum Group, expanding its presence in Germany.
Optimum Group is a collective of printers from across the continent, who deliver labels and flexible packaging to customers in a number of end-use markets. The group's footprint covers the Netherlands, Belgium, Germany and Denmark, and consists of 17 member companies, each with its own product/market combination.
The addition of Optikett ties in with the European growth ambitions of Optimum Group and significantly expands the group's presence in Germany. As part of the Optimum Group, Optikett will be able to better serve its customers through increased capacity, a wider range of self-adhesive labels and flexible packaging options, and greater delivery reliability as part of an international printing group. Optikett joins SC Etiketten, HT Labelprint and Etiket Schiller as part of the group's activities in Germany.
Andre Prophitius, CEO, Optimum Group Germany, said, 'The acquisition of Optikett allows us to serve an even larger customer base in Germany and further expands our German part of the group with additional creative and technical capabilities. In line with Optimum Group, Optikett has a focus on the food industry, a strong commercial and technical profile, and an impressive customer base.'
The current management of Optikett, represented by managing director Daniel Ostendorf, will remain in place within the organisation. He said, 'For Optikett, the acquisition by Optimum Group represents the next step. Scale is becoming increasingly important in our industry: to achieve efficiency gains, but much more to supply our customers professionally, flexibly and reliably.'