Rondo to open dedicated digital print plant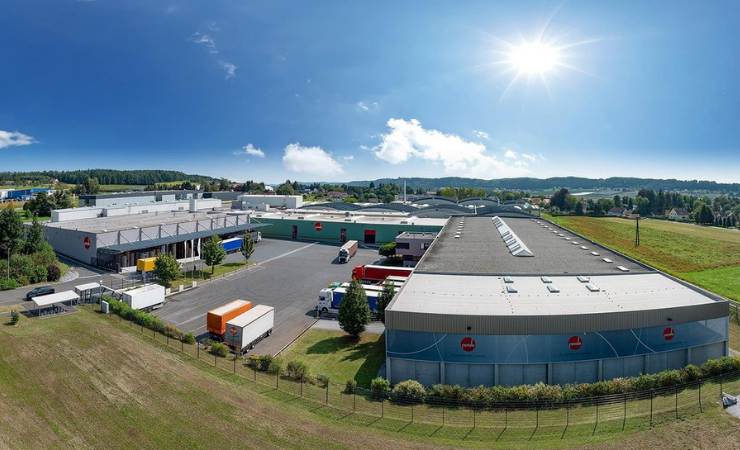 The Rondo Ganahl site in St. Ruprecht an der Raab, Austria
Rondo Ganahl, a corrugated board and packaging manufacturers located in St. Ruprecht an der Raab, Austria, is to celebrate its 50th anniversary and officially open a digital print production plant.
As part of a €25 million investment, the dedicated digital production facility will house a Koenig & Bauer Durst Delta SPC 130 single-pass press with water-based ink technology. The company, which is part of the Rondo Group with eight plants across Europe, invested in the Delta SPC 130 three years ago to start digital production. The press has been and continues to drive business growth and provide the food packaging industry – which accounts for around 90% of Rondo's digital print business – with options and products demanded by brands. The Delta SPC 130 has been successfully transferred across to the new plant and production has started as planned, from the start of April.
Rondo Ganahl is determined to capitalise on continued business growth, where digital production volumes continue to rise by 25-30% a year. With lead times continuing to go down, Rondo stated that it must further develop digital technology where print quality already matches litho production.
Karl Pucher, managing director of Rondo Ganahl St. Ruprecht, said, 'It has been an incredible success story. Digital printing was a big step for us three years ago with an unknown future, but we have never looked back. The transformation is being driven by brands who need to get products to the market quickly, and with digital printing we are very fast from development to getting the products to customers, among them Lindt & Sprüngli who are very big in display products and have been with us on our digital journey from the start.
'Digital printing is the future and is really helping us get a whole raft of new customers. Quality is no longer a topic of conversation. Digital is a very important development for us because we now have a total solution for our customers that has been integrated into our whole plant process. We are running the SPC 130 very well in a two-shift operation, sometimes even in three shifts. We have a lot of customers in the food industry and one of the main reasons for going with Koenig & Bauer Durst is because of its food-safe inks. It provided all permissions we need for the food industry.'
The official opening ceremony for the new building together with the 50th anniversary celebration of Rondo St Ruprecht will be in September 2022.
Koenig & Bauer Durst managing director Robert Stabler said, 'In a true partnership approach, we have been with Rondo every step of the way from its start in digital printing. Investing heavily in a dedicated digital production plant speaks volumes about where markets are heading – all driven by brands.
'Converters increasingly recognise that they need a highly automated, reliable, versatile, and all-in-one digital solution for fast turnaround of jobs. Rondo is also a perfect example of how companies ensure jobs run seamlessly through their plants by investing in complete workflows and colour management systems.'