Digital delivers for #IWD22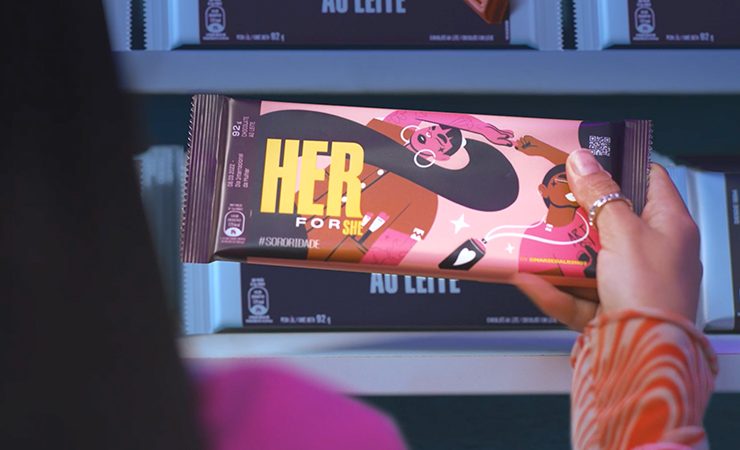 This year's Hershey's #HerShe campaign was big in Brazil and leveraged the power of digital print to celebrate women
The Hershey Company and HP Indigo have partnered to once more promote and honour female talent around the world, via the #HerShe/#HerForShe campaign.
Timed to coincide with International Women's Day, which this year was celebrated on 8 March, 2022, the third iteration of the #HerShe/#HerForShe campaign saw Hershey's milk chocolate bar packaging once again decorated using HP Indigo's digital print technology.
This year, the campaign was activated in seven international markets – Brazil, Canada, India, Mexico, Philippines, and Saudi Arabia. Whilst this campaign is present in countries around the world, in Brazil specifically, thousands of limited edition chocolate bars have been developed and produced by Camargo Cia de Embalagens using its HP Indigo 20000 digital press since the #HerShe/#HerForShe campaign was launched in 2020. The original campaign featured artwork to celebrate the talent of female musicians, illustrators, photographers and poets throughout Brazil, with a parallel social media campaign reaching close to two billion impressions. This year, the campaign aimed to make, 'invisible women, visible by supporting gender equality through a global movement that celebrates female achievements in science, business, sports, activism, and music.'
New for 2022 is the inclusion of a QR code intended to 'open consumers' eyes' to the many contributions of women, beyond each bar. In addition, HP and Hershey have produced a film, amplifying how the digitally printed packaging can be used and elevating brand engagement through the co-creation of user generated content. This is intended to become, 'the ultimate vehicle for cultural relevance and on-pack storytelling,' stated HP. Watch the video below.
Jose Gorbea, global head of brands, agencies and sustainability at HP Indigo, said, 'I've loved seeing how the #HerShe campaign has evolved over the past three years and I'm excited to see what other personalised storytelling opportunities HP's digital print technology can achieve in order to make tangible connections and further engagements with consumers.'
Read more about this project and the success of the #HerShe campaign in the April 2022 issue of Digital Labels & Packaging; register here to receive the magazine