TRG installs Delta SPC 130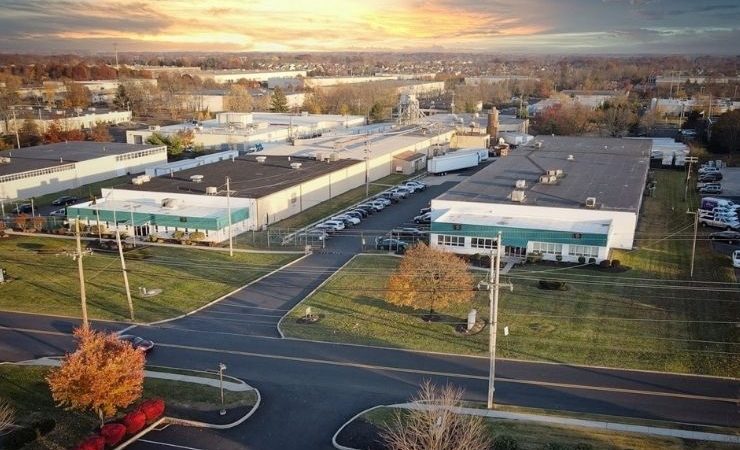 TRG's Mid-Atlantic Packaging headquarters. Picture credit: Howell Film Studios
The Royal Group (TRG), one of the largest independent corrugated box and display manufacturers in the US, has invested in a Delta SPC 130 Automatic single-pass press from Koenig & Bauer Durst, delivering mass customisation and high-volume, fully automated digital production to its customers.
The six-colour press, now installed at TRG's Mid-Atlantic Packaging site near Philadelphia, gives customers the flexibility to print unique versions of high-quality graphics for brands and brand extensions, allowing for mass customisation at a large scale. The machine has an expanded colour range, adding orange and purple to the CMYK colour wheel, so allowing it to achieve more than 90% of Pantone colours, including spot colours for specific brands.
The Delta SPC 130 Automatic, with its sustainable food grade certified water-based ink technology, provides specific options suitable for the food and retail packaging and display industries. As the press also provides print quality claimed as equivalent to flexo and offset production, TRG will be able to transfer work from traditional to digital production techniques. This, in turn, will empower TRG to meet customer needs as the demand for both corrugated packaging and speed to market grow, as TRG CEO Bob McIlvaine explained.
'As both a producer and a converter of corrugated packaging, The Royal Group has made significant investments to acquire the best machinery available in the industry. The investment in the Delta SPC 130 for our Mid-Atlantic site underpins our commitment to process improvement. It will enable us to provide highly automated, world-class printing capabilities at speed while remaining as flexible as possible for our clients as we continue to grow our business.
'Digital packaging is the future — and we aim to satisfy our customers and meet their needs with innovative solutions.'
Koenig & Bauer Durst managing director Robert Stabler said, 'Successful companies such as TRG embrace trends and offer high-impact solutions for their customers. Brand owners want shorter lead times, sustainable manufacturing practices and products that stand out. The Delta SPC 130 Automatic meets all those needs while providing customers with the latest, most reliable and cost-effective production method available. We're happy to deliver a solution that gives both TRG and its customers the capability and competency to mass customise without compromising quality.'