Hybrid updates Stepz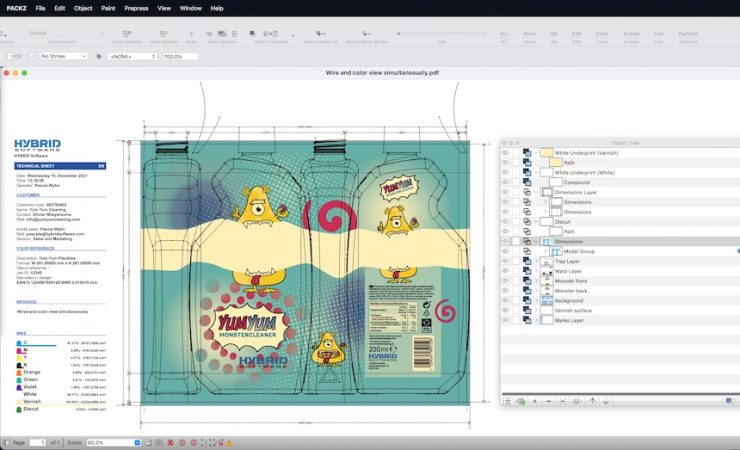 Hybrid Software's new version of Packz and Stepz provide bespoke options for pre-press experts who require high efficiency, quality, and performance in preparing packaging files for conventional or digital printing
Hybrid Software has updated its Stepz pre-press software for digital printing, alongside updates to its overall software suite.
Stepz is a PDF editor designed to accelerate digital label and packaging printing, including options for variable data printing, step and repeat, print optimisation, quality control, and more. Stepz is said to, 'transform the condensed pre-press cycle into a time-effective operation.' Stepz is based on Hybrid Software's native PDF editor, Packz, which has also been updated.
The latest versions of Packz and Stepz, v7.5, provide bespoke options for pre-press experts who require high efficiency, quality, and performance in preparing packaging files for conventional or digital printing. Specifically, the company noted that production jobs in the packaging industry have been increasing and, as a result, many package printers and converters are converting to data-driven production. Pactions 7.5, the automated toolset in Packz and Stepz with parameterised action lists, responds to the needs of these customers for advanced automation. This is claimed to decrease the amount of operator time needed to get a new package design edited, approved and printed, and connects seamlessly to packaging RIPs, workflows, and digital front ends (DFEs). Pactions can also be used for barcode generation, including the GS1 digital link datamatrix code.
Both Packz and Stepz 7.5 support the newest M1 processors from Apple for real-time editing.
Complex layered artwork can be viewed in colour and wired mode simultaneously, and object-based screenings can be inspected per separation. Enhancements to the Smart Flattener ensure artwork quality and consistency, professionally managing spot colour and transparency interactions as well as press gamut conversions.
Packz 7.5 also automatically tags artwork elements with processing steps defined in the ISO 19593 standard, whilst the 'Analyze and Fix' technology checks incoming files for compliance.
Further, Packz and Stepz now offer a direct link to Hybrid Software's online store, allowing customers to download ready-made templates, dynamic marks, and metadata export filters quickly as required for new production methods or job types.