BillerudKorsnäs to acquire Verso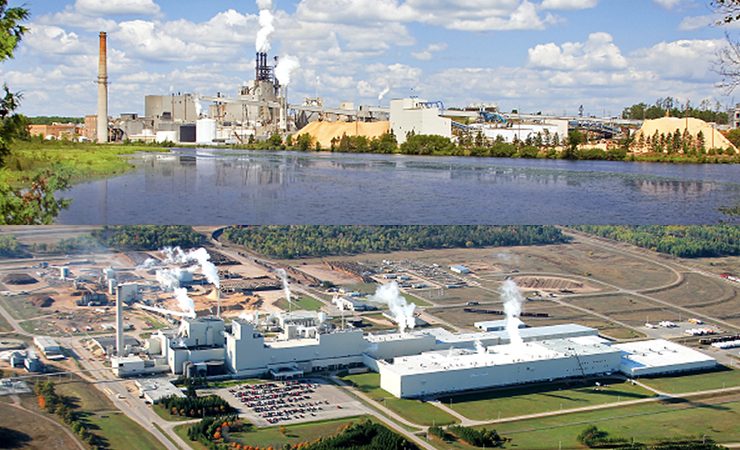 In addition to continued paper production in Escanaba (pictured, top) during the conversion, BillerudKorsnäs plans to continue operating the Quinnesec mill (pictured, bottom)
BillerudKorsnäs is to acquire Verso, creating one of the largest providers of virgin fibre paper and packaging, whilst also expanding it activities in North America.
BillerudKorsnäs is a Sweden-based pulp and paper manufacturer, and a provider of renewable packaging materials. Verso is a producer of coated papers in North America, with reported net sales for the last 12 months ending 30 September, 2021 of $1.2 billion and adjusted EBITDA of $158 million.
This deal has seen BillerudKorsnäs enter into a merger agreement with Verso Corporation, under which BillerudKorsnäs has agreed to acquire Verso for a purchase price of approximately $825 million in cash. The acquisition will be effected pursuant to a merger agreement under which Verso will merge with a wholly-owned subsidiary of BillerudKorsnäs. Combined net sales for BillerudKorsnäs and Verso for the 12 months ended 30 September, 2021 amount to approximately SEK 36.7 billion and combined adjusted EBITDA for the same period is approximately SEK 5 billion.
The acquisition of Verso is fully in line with BillerudKorsnäs' strategy to drive profitable growth in paperboard, and its ambition to expand in the North American market. BillerudKorsnäs aims to build one of the most cost-efficient and sustainable paperboard platforms in North America by converting several of Verso's assets into paperboard machines, whilst maintaining its position as quality and cost leader in speciality and coated woodfree paper. Verso's strategic assets are noted as being positioned in a region with 'abundant and cost-effective' fibre supply, suitable for production of premium packaging materials. Verso will become the platform for BillerudKorsnäs' future expansion in North America and is expected to provide continuous growth opportunities over the next decade and beyond.
A plan to convert Verso's largest facility, its Escanaba mill, will create a world-class, sustainable, fully integrated paperboard production site. One machine is estimated to be converted by 2025, a second machine by 2029, to a total capacity of around 1100 ktonnes. BillerudKorsnäs estimates that the investment for the conversion project will be up to SEK 9 billion, whereof around two thirds to be invested up to 2025 and the remainder up to 2029. The increased net capacity of around 400 ktonnes compared to today, together with a more profitable product mix, will create significant shareholder value over time.
In addition to continued paper production in Escanaba during the conversion, BillerudKorsnäs plans to continue operating the Quinnesec mill. It has an annual capacity of around 400 ktonnes of paper and 200 ktonnes of market pulp and is a cost and quality leader in graphical paper, specifically in coated woodfree and specialty papers. BillerudKorsnäs is committed to continuing to serve Verso's existing customers.
Verso's location also presents favourable export opportunities to both Asia and Europe.
Christoph Michalski, president and CEO at BillerudKorsnäs, said, 'The combination of BillerudKorsnäs' expertise in high-quality virgin fibre packaging materials and Verso's attractive assets creates an excellent platform for long-term profitable growth. We will obtain cost-effective production of coated virgin fibre material in the US Midwest. We also plan to sequentially transform part of the business into paperboard production while continuing to serve the US customers. Our investments will create new US-based jobs in a growing market and accelerate the transition from plastic-based packaging materials to renewable sources'.
Verso's board of directors, acting upon the recommendation of a special committee, has unanimously approved, and resolved to recommend the transaction to Verso's shareholders. The transaction is expected to close in the second quarter of 2022.
The acquisition and transformation will be financed through a combination of rights issue, additional debt and operating cash flow. BillerudKorsnäs has entered into a new credit facility of SEK 6 billion, provided by Danske Bank and SEB, intended to be utilised for this purpose. This credit facility is planned to be refinanced by issuance of debt instruments and an equity rights issue.