ICE, CCE, InPrint target 'opportunities and synergies'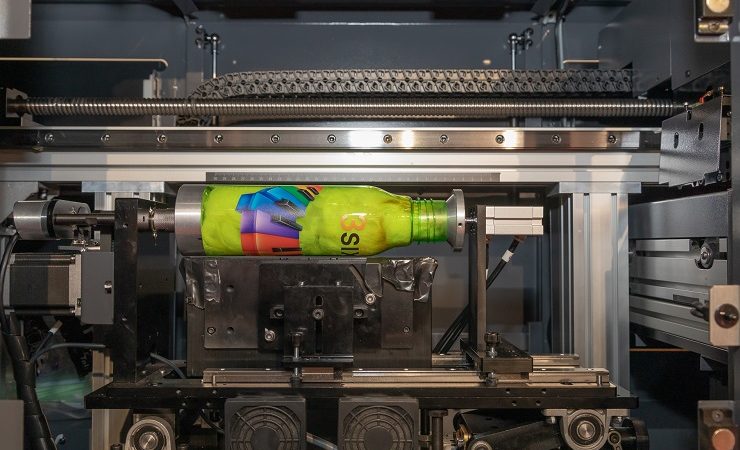 Direct-to-shape inkjet printing directly onto a container, as demonstrated at InPrint in 2019
The combined ICE Europe, CCE International and InPrint Munich gathering scheduled for 15-17 March next year will create 'an all-round experience with increased opportunities and synergies', according to event director Patrick Herman.
The three shows will return to Munich Trade Fair Centre in the German city after their respective Covid-enforced hiatuses. However, this will be the first tie all three events have taken place concurrently, with InPrint Munich moved to take place alongside ICE and CCE as the combined events target opportunities in the fast-growing packaging sector.
ICE Europe is an international exhibition for the conversion of flexible, web-based materials, such as paper, film, foil and nonwovens. CCE International is an event targeted at the corrugated and folding carton industry, covering the entire supply chain in the production and processing of corrugated and carton material. InPrint Munich is focused on the development and potential for print applications in the industrial production sector, including packaging and containers, consumer goods, aeronautics and aerospace, architecture and design, automotive, medical equipment, and more.
Preparations are already underway for the collective of converting, paper and print exhibitions, according to organiser Mack-Brooks Exhibitions, and Mr Herman said, 'Finally, our live events can continue their critical role in bringing the global converting, paper and print industry together. As of today, a total of 467 exhibitors will be presenting their latest technologies on a combined net exhibition space of more than 13,500sqm.'
Mr Herman, who is event director of converting, paper and print events at Mack-Brooks Exhibitions, continued, 'For the first time, the three shows will take place at the same time and the same venue, creating an all-round experience with increased opportunities and synergies for all trade visitors on-site. With InPrint Munich covering the print technology for industrial manufacturing we are now able to offer an almost comprehensive overview of the value chain.'
Visitor registration is open for the three events at Munich Trade Fair Centre across 15-17 March, 2022. Increased hygiene measures, social distancing management and medical safeguarding will be part of the robust programme on-site to ensure the health and safety of visitors and exhibitors alike, and will be published fully in due course. More information about the framework for the health and safety measures is available here.