Nova Label expands digital capability with Colordyne retrofit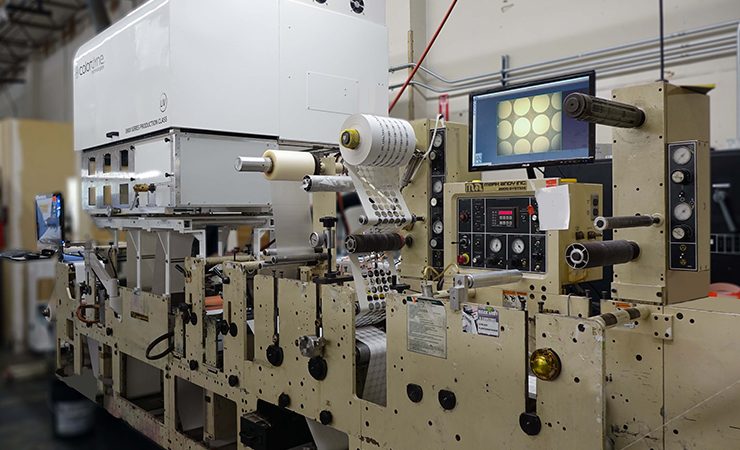 Nova Label has installed the UV inkjet retrofit unit onto a Mark Andy 2200 flexo press
US converter Nova Label has installed a Colordyne 3800 Series UV – Retrofit to expand the markets it can serve.
Nova Label is an existing user of digital printing, having previously invested in a water-based inkjet retrofit option in 2016.  The addition of UV inkjet allows the label converter to produce more applications with the digital technology's durability characteristics, lower consumable costs, and affordable short-run capabilities. The company, a manufacturer of pressure-sensitive labels located in Cheverly, Maryland, has installed the latest retrofit onto a legacy Mark Andy 2200 flexo press.
Nova Label president Alan Rich said, 'Everyone is jumping into digital, and we couldn't find another product in the market that can compare to Colordyne's unique retrofit approach.
'The 3800 Series UV – Retrofit allows us to continue using our existing press and tooling equipment. Plus, it doesn't require additional floor space as it is mounted on top of our Mark Andy 2200 flexo press.
'As did our original water-based inkjet retrofit, the UV retrofit from Colordyne fits well with our inline converting production. We knew it was going to be the best upgrade solution and took advantage of it.'
In recent years, the market growth in wine and spirits, microbreweries and craft distilleries has created opportunities for Nova Label to expand its business. Now, with the benefits offered by the 3800 Series UV – Retrofit, Nova Label can provide medium order quantities, multiple SKUs, and durable labels to these growing markets.
Mr Rich continued, 'The application benefits of UV inkjet go beyond what we anticipated. For example, there are no concerns of damage from wet or frozen environments common in the food and beverage market. Another key benefit of UV inkjet is that it allows us to reduce material costs because we no longer need to purchase pre-primed materials. Even though lamination would not necessarily be required, there are jobs that benefit from gloss or matte lamination added as an embellishment.'
Having now gained first-hand experience of UV inkjet digital printing, Nova Label is open to expanding its production capabilities by adding another retrofit unit sometime in the future. Whilst the company says it wouldn't leave behind its flexo capabilities, the label converter is excited to explore new markets and continue to monitor digital technology advancements.
'Choosing to go with the UV retrofit wasn't a decision made lightly. In the end, the quality of UV inkjet was undeniable. The Colordyne team did a great job working with us on print samples and their responsiveness along the way made working with Colordyne the best option for us,' concluded Mr Rich.
'Nova Label understands the value of in-house digital printing,' commented Taylor Buckthorpe, director of sales at Colordyne. 'The company identified the advantages of installing a retrofitting vs purchasing an inline press, and we look forward to seeing how this addition impacts its business.'