HP partners with Microsoft for mixed reality support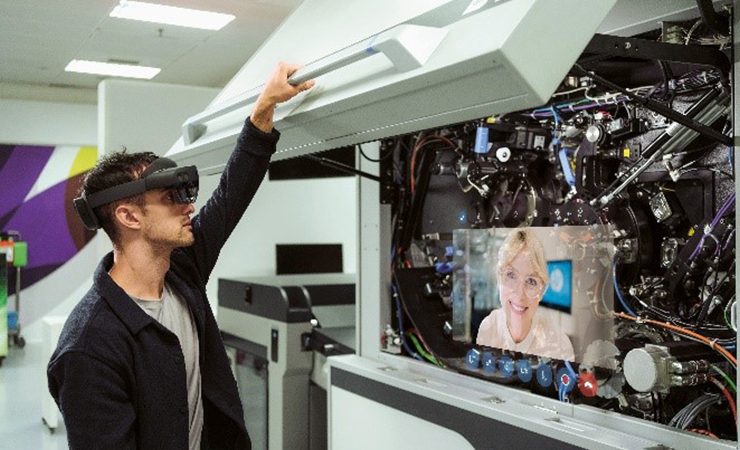 Powered by Microsoft's HoloLens 2 mixed reality smart glasses, the collaboration creates a virtual-real world combination for support and service HP industrial printer customers
HP has partnered with Microsoft to introduce xRServices, claimed as the print industry's first mixed reality service offer.
Powered by Microsoft's HoloLens 2 mixed reality smart glasses, the collaboration creates a virtual-real world combination in which customers can connect with HP engineers through mixed reality, advising them on any issue, at any point of their print production.
Wearing the Microsoft HoloLens 2 headset and supported by HP xRServices, users will have the feeling of being physically present with a virtual coach on hand to guide them through the process, meaning no time wasted on long service calls, swift resolutions to issues, and press downtime minimised.
Users that are either digital native or novice can also be trained, guided step-by-step with a virtual HP engineer, and the instructions moving with the employees to easily direct them to the parts or problems that need resolving. By leveraging HP's Print OSx, print companies will see how to combine the data generated from doing the work, with transactional data to drive optimisation and smoother productivity in the future.
Other benefits are cited as:
Less face-to-face meetings or travel needed, as the complete on-press toolset coupled with step-by-step guidance provides everything needed;
More support, as customers now have a second and virtual in-person route to guide them through any problems, issues or advice; and
Faster onboarding, which guides new employees through processes step-by-step through 'as live' simulation. 
xRServices is compatible with all HP industrial printer hardware, and is currently in a beta launch phase.
Haim Levit, general manager, HP Indigo and worldwide industrial go-to-market strategy, commented, 'With the exponential rise in digital printing fueling the industry, customers have less time for service calls and higher production runs to meet. The way we deliver services in this ever-evolving business and work environment is changing fast, and working with Microsoft on this project was a common-sense solution.
'We are redefining services for the industry, by providing our customers with a solution which not only saves them time, but optimises their revenue opportunities. We continue to drive the most innovative solutions in the industry as we listen to and work with our customers as their own production needs change in the virtual and physical worlds.'
Tracy Galloway, corporate vice president and COO at Microsoft, said, 'HP has a strong record of reinvention, always propelling customer needs as the key driver for technology advancement. Microsoft's mixed reality solutions offer a tangible mechanism that helps drive the changing landscape of human interaction. HP and Microsoft working together on reinventing services was a clear winning formula. We are confident HP's xRServices, and Microsoft's HoloLens2 and remote Assist applications, will bring simplicity and ease to HP's support operations and will be a catalyst for positive change in customer support throughout the industry.'