Flex-n-Roll Pro installs Mark Andy Digital Series HD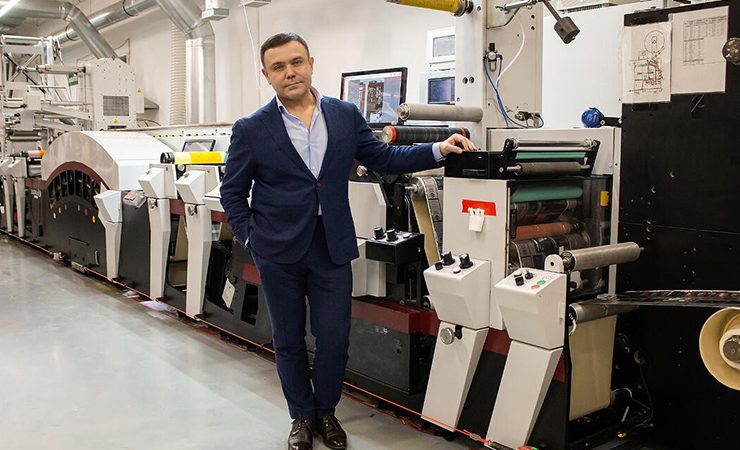 Flex-n-Roll Pro owner Boris Sterin with the company's Mark Andy Digital Series HD
Belarus-based Flex-n-Roll Pro has installed two state-of-the-art Mark Andy presses at its production facility in Minsk, including a Digital Series HD that has improved the printer's efficiency and flexibility.
Renowned as one of the largest label converters in Eastern Europe and the market leader in Belarus, Flex-n-Roll Pro previously used a mix of UV- and solvent-based flexo technology, and a digital press to serve its portfolio of customers. With the market evolving, and customers demanding longer runs with more variations (SKUs) to reduce the need for expensive stockholding and warehousing, Flex-n-Roll Pro took the opportunity to invest in new printing technology.
The printer's CEO, Galina Zinevich, explained, 'We knew we were not meeting our customers' quality requirements with our existing digital press and that we needed to improve our shrink sleeve capability.'
What the company sought was an efficient digital option that would cater for high-quality short- and medium-run work, with maximum flexibility for variations and personalisation. The hybrid design of the Digital Series HD offers a wide colour gamut with the inkjet engine, supplemented by additional flexo colours and the full finishing and converting options of Mark Andy's Performance Series P7 servo platform. The production speed of the Mark Andy Digital Series HD is cited as being very close to the flexo speeds Flexo-n-Roll Pro was achieving with its previous equipment. This also makes the press suitable for medium to longer runs, whilst the company can cost-effectively undertake short-run shrink sleeve work and add cold foil stamping, with each sleeve personalised, if required.
Ms Zinevich continued, 'The Mark Andy Digital Series HD press was the perfect choice for us; it's solved our problems and attracted more work because of its efficiency and flexibility.'
Flex-n-Roll Pro simultaneously chose to update its flexo printing capability, in an effort to bring quality and production efficiency to longer runs. This has seen it invest in a Mark Andy Evolution Series E5. Both presses were sold through Mark Andy's local agent Paritet System. Key to the new investments was the ability to handle both short- and long-run work, both of labels and shrink sleeves, with a print quality that met the standards of Flex-n-Roll Pro's growing list of customers, which since 2019 has included a select group of German companies. 
Of the flexo press, Ms Zinevich said, 'The E5 has modernised our flexo department and increased both capacity and quality. It's a full hot air drier press with a 430mm web width capable of printing at 230m/min on substrates from 12-305 micron. This makes it ideal for the variety of work we do from bottle wraps to IML and shrink sleeves.'
Although both machines and much of their technology are new to Flex-n-Roll Pro, Ms Zinevich was quick to praise the support her company has received from both Paritet System and Mark Andy's European technical team, which is based in Poland. 'The pandemic has made things difficult, but we have always had great support by email and video call, and more recently with travel restrictions easing, they have been able to arrange site visits at short notice, which we really appreciate.'
Paritet System director Kiryl Zubrytski stated, 'Flex-n-Roll Pro is a great example of a fast-growing label converter that has seen the benefits of switching to Mark Andy technology – it has improved their quality and production efficiency and opened new markets for them. This gives it a competitive edge over other narrow web converters.'
Phil Baldwin, Mark Andy's European sales manager, concluded, 'When negotiating the contract, Flex-n-Roll Pro paid special attention to our overall package that included full technical and service support in addition to cutting-edge technology. Modern machines are complex, and it is vital that manufacturers support their customers at every stage before and after the installation. We are delighted to be playing a leading part in the development and success of this ambitious company.'