HP updates PageWide C500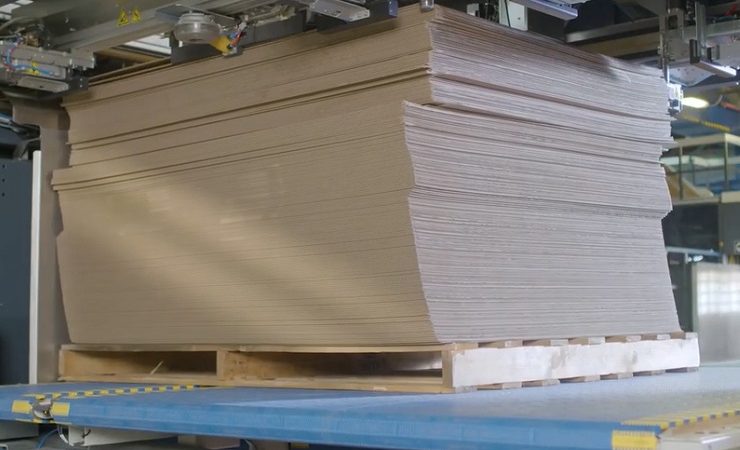 The new feeder supports a wider range of sheets, including thin and micro-flutes, while maintaining a smooth feeding process and fast job changeovers
HP has updated the feeder of its PageWide C500, as it seeks to further accelerate the digital corrugated market.
The PageWide C500 digital press is based on HP thermal inkjet technology, promising offset print quality for a wide range of corrugated packaging and display applications on both coated and uncoated sheets. Designed for producing high-quality print in demanding production environments, the press prints at 75m/min with 1200npi resolution using one million nozzles.
The new feeder has been designed as a robust production tool to improve converters' operating profit and reduce waste. It supports a wider range of sheets, including thin and micro-flutes, while maintaining a smooth feeding process and fast job changeovers, according to HP.
Specific feeding enhancements include:
Stack topography alignment technology, to automatically compensate for uneven or warped stacks;
Dynamic stack alignment technology, to overcome vertically unaligned stacks;
Smart auto recovery technology, to identify and overcome feeding problems related to bad stacking or damaged sheets and helping to avoid manual intervention by the press operator; and
A wider range of applications with thin and micro-flutes.
David Tomer, general manager, HP PageWide corrugated, post-print, said, 'HP has invested substantially in the feeder as part of its ongoing commitment to the corrugated market and will continue to develop this game-changing industry technology.'
Converters on either side of the Atlantic are already benefitting from this latest innovation. The BoxMaker, a US packaging provider that recently purchased a second PageWide C500 press for its new site, is already operating the new feeding technology, which company president and CEO Richard Brown noted as helping the converter handle different varieties of stacks that arrive at its plant.
'With the HP PageWide C500 top feeder's latest enhancements, we successfully handle many sheets and stacks that previously had to be disqualified due to their condition,' he explained. 'This allows less waste, fast time to market and better utilisation of our operators' time – not only that the automatic stack replacement time has been reduced, but also there are fewer interventions due to quality and alignment of sheets.'
ICO of Italy has also made the upgrade, and the company's R&D manager Michelle Mastromatteo said, 'After successfully installing the HP PageWide C500 top feeder latest enhancement, our stack replacement time has reduced to a minimum, which saves valuable time, money and labour. With this upgrade, machine availability and uptime have significantly increased and allow us to convert additional volumes from our flexo line.'
This latest development follows HP having introduced a series of innovations for its wider PageWide corrugated digital press portfolio earlier this year, intended to help drive scaled and profitable production of digitally printed packaging applications.