Proprint improves productivity with wide format investments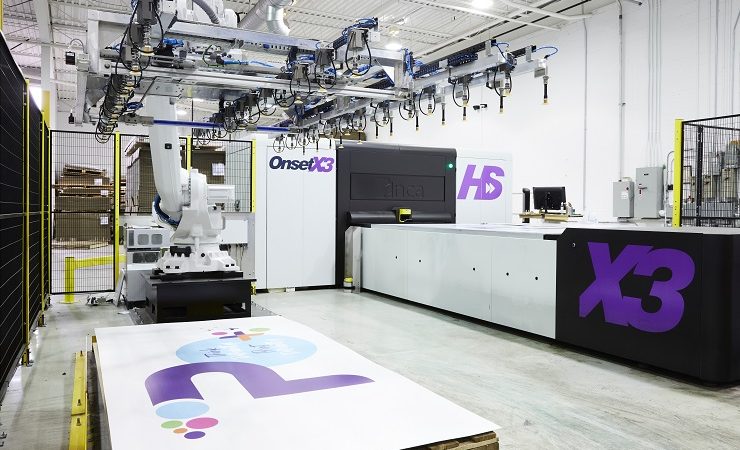 The decision to invest in the OnsetX3 HS was made to bring outsourced work back in-house and improve its bottom line
Proprint Services of Ontario, Canada has installed a Fujifilm Inca OnsetX3 HS flatbed printer to deliver time and cost savings to its customers.
Based in Scarborough, Proprint specialises in retail, non-permanent point-of-sale, in-store signage, and in-store non-permanent displays, as well as packaging, including folding cartons, speciality in-store and e-commerce formats.
For Proprint, the decision to invest in the OnsetX3 HS was made to bring outsourced work back in-house and improve its bottom line. This includes long run jobs, which previously made more economical sense to run as large format litho work.
Richard Krakower, CEO of Proprint, explained, 'By watching how the industry was changing, it was a simple decision to put in the OnsetX3 flatbed to see what kind of volumes we could keep in-house. Because of the on-time service that we now can provide to customers through the technology we have invested in, we have won about 10% more work from new and existing clients.'
The OnsetX3 HS features a semi-automated robotic handling system, and has been paired with a new Kongsberg C Series digital cutting system with full automation, enhancing the company's print finishing capacity.
As a result of such technology, Proprint has immediately seen increases in productivity and efficiency for its retail clients. For example, with the automated robotic handling system on the OnsetX3 HS paired with the fully-automated Kongsberg digital cutting system, Proprint has been able to cut run time per sheet by 67%, and has been able to pass that time savings to its customers.
Mr Krakower continued, 'We've made this investment in the OnsetX3 HS flatbed printer to continue to grow our capacity potential and uphold our ability to exceed our clients' needs. Our new ultra-productive OnsetX3 HS printer and Kongsberg C series digital cutter are the next step of evolution for Proprint as a complete print service provider.'