Kodak launches Ascend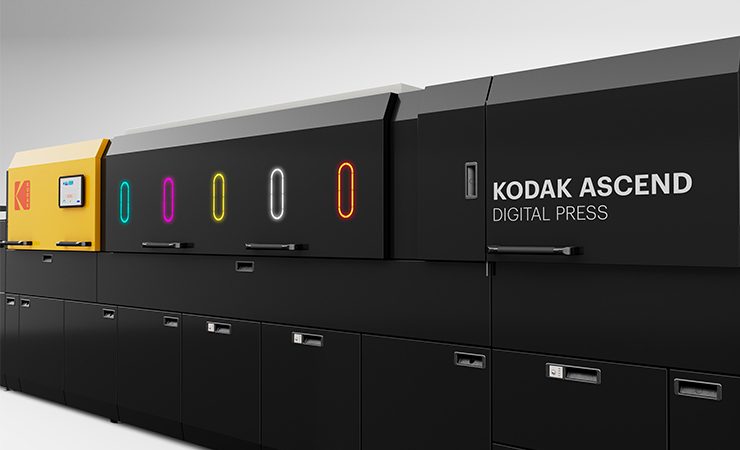 Ascend is the world's first EP digital press designed to print on and embellish heavyweight stocks
Kodak has developed Ascend, the world's first electrophotographic press designed to print on and embellish heavyweight stocks.
Targeting folding carton packaging and retail signage applications, Ascend has been engineered to print heavyweight substrates at long lengths with high-margin CMYK and flat foil embellishments in one pass. It prints with a maximum 600dpi resolution and offers production speeds up to 572sqm/h (5280sqft/h). A large sheet length of up to 1220mm allows the press to offer 23% more print area than a B2 sheet.
Ascend can run paper substrates that are uncoated, matte coated, glossy coated, cast coated and textured, wood free and recycled, including a wide selection of standard offset papers and speciality rigid paper board. Special substrates that can be run include glossy coated labels, static cling film, magnetic, synthetics, pre-perforated and scored speciality stocks.
A maximum paper weight of 687gsm (711 microns / 30pt) can be handled. The machine has a total capacity of 5000 sheets/500mm pile height. Feeding is done by two sheet feeders, each with 100mm pile height; two sheet feeders, each with 450mm pile height; or one sheet feeder for up to 711 microns (30pt), with 570mm pile height.
Ascend runs Kodachrome dry inks, for more sustainable and recyclable print. These inks are indirect food contact rated. The press runs 13 eco-friendly Kodachrome inks for embellishment, enabling a spectrum of special effects including opaque white, foil, antimicrobial dry ink, matte finishes and spot coatings. With rearrangeable ink stations, ink can be ready to use in under eight minutes.
The Kodak Ascend will be available during Q2 2022 in North America and Europe.