DTM brings Catalyst to Europe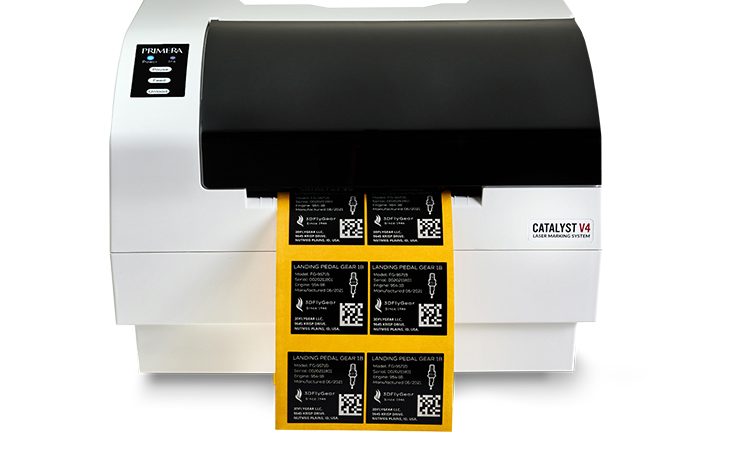 Instead of a more traditional but far more complex and expensive computer-controlled galvanometer with beam steering mirrors, Catalyst is designed more like a standard industrial label printer such as Primera's LX910 colour label printer
DTM Print is introducing the Primera Catalyst industrial fibre laser-based label marking system into the EMEA region.
Introduced earlier this year by Primera, Catalyst is a laser marking system designed for fast and easy production of highly durable, synthetic labels for a wide range of rough-service applications. Labels produced with laser-based systems are typically used to replace metal plates or far less durable labels produced by resin thermal transfer printers on polyester substrates.
Text, graphics, and linear or 2D/3D barcodes, are laser imaged onto a special substrate, CLF, which has been developed and manufactured by Schreiner ProTech in Germany. CLF labels are explicitly designed for extreme environment applications and do not require extra lamination to withstand extended exposure to UV light, chemicals, liquids, and temperatures of up to 300°C.
Instead of ink, Catalyst uses a bundle of two, four or eight fibre-coupled laser diodes along with matched, high precision lenses to image onto CLF. Bundled fibre lasers have never before been used in a roll-fed, desktop laser label imager.
After imaging the CLF material, Catalyst's built-in digital die-cutting system cuts the labels to any shape, eliminating the need for pre- cut labels. Using a knife blade to cut instead of a laser beam eliminates the need for a smoke and fume extraction system.
Mark D. Strobel, vice president of sales and marketing at Primera, has previously described Catalyst as being ideal for companies that need labels for use in harsh and severe-service environments, and even for mission-critical applications.
'Catalyst is the most affordable and easiest to use laser marking label printer available.'