I.B.E. installs Bobst Master DM5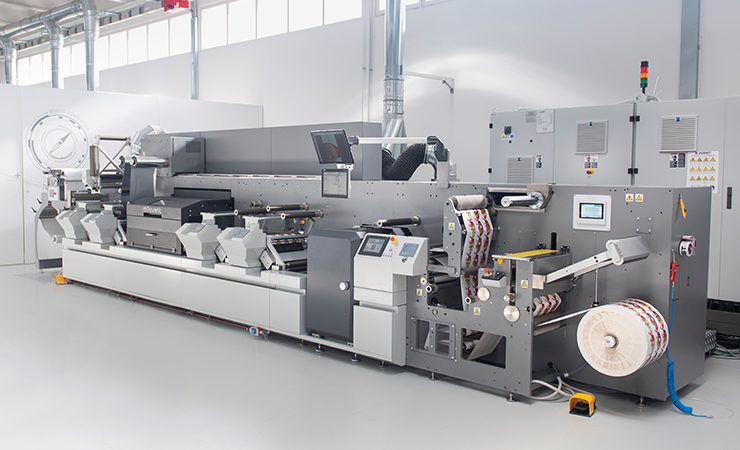 Master DM5 couples Bobst's flexo expertise with Mouvent's inkjet digital printing capability
Italian converter I.B.E. has installed the first Bobst Master DM5 press in Italy.
Coupling Bobst's flexo expertise with Mouvent's inkjet digital printing capability, Master DM5 is described as an 'all inline, all in one' platform. Master DM5 can be configured to the exact requirements of each customer, with flexo stations and finishing units complementing the UV inkjet engine for all inline label manufacturing.
I.B.E. produces self-adhesive labels, multilayer labels and shrink sleeves for a wide variety of customers in the food, wine and oil, household and personal care, and industrial sectors, both in Italy and internationally. I.B.E. opted for the all inline, all in one label press to optimise label production at its modern facility in Verderio, in the province of Lecco.
The highly automated Bobst Master DM5 was chosen to enable the company to meet demands for faster turnaround, more flexibility, shorter runs and savings in costs, time and waste. Specifically, I.B.E. took full advantage of the modularity of the DM5, and equipped it with a whole host embellishment and die-cutting options, so allowing it to produce the broadest range of applications on the press.
Master DM5 is part of Bobst's larger oneLABEL portfolio, as detailed in the cover story of the July/August 2021 issue of Digital Labels & Packaging. Read the September/October issue for more, and on I.B.E.'s investment in hybrid flexo-inkjet printing technology
Register here to receive Digital Labels & Packaging, for free