Esko delivers VDP for ePacConnect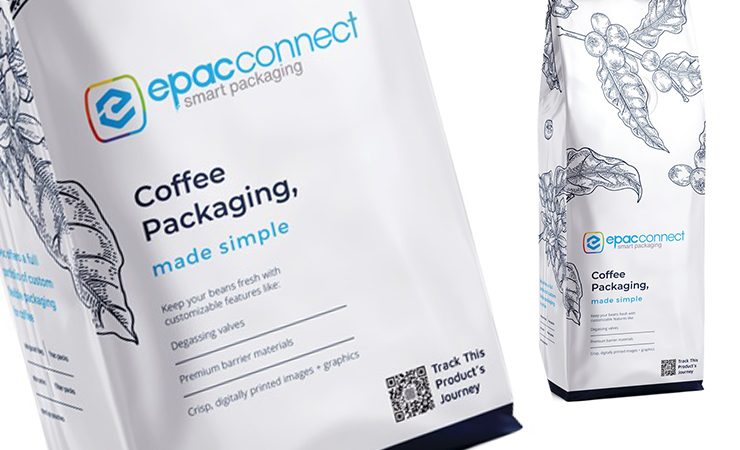 The variable data printing (VDP) capability of Esko Automation Engine is enabling the printing of serialised and secure QR codes on flexible packaging on a mass scale
Esko's Automation Engine is facilitating the printing of serialised and secure QR codes on flexible packaging on a mass scale, as part of the ePacConnect connected packaging platform.
ePacConnect is a product offered by ePac Flexible Packaging, in partnership with Swiss IoT specialist. Scantrust. It leverages the power of digital printing to create serialised, trackable packaging, and new ways for brands to engage consumers, gain market insights and protect their brand.
Combining the digital printing capability of ePac and cutting-edge technologies from Scantrust, ePacConnect democratises access to smart packaging by offering an entry-level no-cost option for all brands, while also making it easy and flexible to add-on a comprehensive suite of readily available applications. Scantrust powers these underlying capabilities with a secure platform that provides scalable tools to brands who want to actively protect from counterfeits, easily share product provenance, and offer tailored consumer experiences.
The variable data printing (VDP) capability of Esko Automation Engine is supporting this, enabling the printing of serialised and secure QR codes on flexible packaging on a mass scale.
Esko product manager Paul Land explained, 'VDP has the ability to take the role of packaging to a whole new level. With opportunities for localisation, serialisation, personalisation and traceability, the advances in automation mean it is now possible to further harness the technology to transform the pre-press environment. With Cloud deployment for 24/7 global access to data and new scalability capabilities, Automation Engine is enabling ePac to realise the power of VDP for an organisation without the downsides.
'By connecting the VDP module in Automation Engine with Scantrust, we have created a framework for codes that makes it easy for converters to use. Not only is this implementation the first of its kind, but it also unlocks capabilities that were previously difficult to achieve.'
Peter Kostur, Scantrust sales and partnership director, noted, 'There are three building blocks to making connected packaging. There's the variable QR code, a mobile environment enabling the user interactions, and a platform that enables the customer to manage the codes, product content, and extract the data. However, each project starts with a question from the brand: How do we get the variable data on our product?'
Automation Engine makes the integration of VDP requirements as easy as a few mouse clicks. 'It is now simple to integrate the VDP requirements into the process,' continued Mr Land. "The process can even happen in the Cloud, for added flexibility in terms of printing a job at any location.
'Typically, once the order details are entered, the information is passed through into Automation Engine, which then acts as the enabling platform between all the systems. It consolidates and pulls the variable data information through, determining the quantities and parameters of the job. So, for example, with a quantity of 100,000 records it expands the files and the variable elements for printing, and then automatically expands the template file to the quantities needed – each with its own unique QR code – and lays them out for production. The automation means that a process that used to take hours or even days is now completed in just a few minutes.'
Ryan Kiley, director of market development at ePac Flexible Packaging, said, 'Scale is where the rubber meets the road. Scale is what we can accomplish through working together. Now, with a single click, a customer can turn their packaging into an interactive platform delivering consumer engagement, proof of provenance, and brand protection while reducing touchpoints in pre-press and production.
'With the VDP automation, we can accelerate our rate of growth as we add plants, people, systems, languages, currencies, substrates, structures and other technologies. With Automation Engine being Cloud-based, it means we have total control over our production – with our teams able to access files from anywhere, at any time for 24/7 operation, scale production up or down to meet demand and enabling us to divert the production to any plant around the world. As a result, our ePacConnect service has achieved customised, flexible packaging with connected packaging features that require very little or no up-front costs, lower minimum order requirements, and minimal technical setup.'