General Data debuts Jet-Kote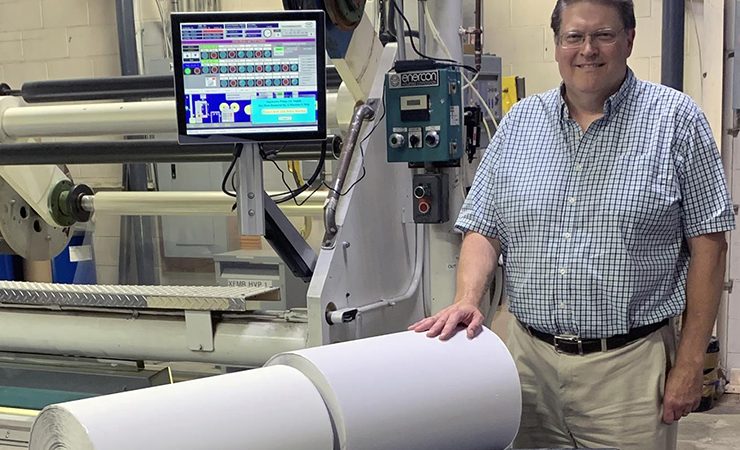 David Gustafson with two coated rolls of Jet-Kote inkjet receptive material at General Data's coating facility in Cincinnati, Ohio
General Data has introduced a new line of in-stock, quick ship pressure-sensitive inkjet receptive materials for the fast-growing digital colour inkjet printed label market.
The company, a manufacturer and provider of labelling, coating, barcode identification, data management, and equipment service products, has launched the range under the Jet-Kote brand, which includes both paper and film facestocks in matte, satin, semi-gloss and high gloss finishes. The materials are said to offer 'excellent' print quality characteristics, and to be resistant to environmental conditions. Using Jet-Kote materials, General Data stated that converters and end users have the option to produce high-quality, full-colour labels in shorter runs for a variety of labelling applications, including BS5609-certified GHS chemical drum labelling, product labelling, marketing and promotions, and more.
Jet-Kote materials are available in 20in and 60in master rolls. More information and material data sheets can be accessed here.
The Jet-Kote product line features low minimum order quantities (MOQs), and as they are stocked products they can be configured and shipped quickly. Jet-Kote materials have been tested with most dye- and pigment-based inkjet digital label printers, and also inline inkjet printers for commercial presses.
David Gustafson, marketing manager within General Data's Coated Products division said, 'The demand for digitally-printed labels continues to grow, due in large part to advancements in inkjet printing technology and the need for the flexibility of shorter press runs that are cost-effective and still deliver outstanding print quality.
'Our Jet-Kote line fills this need perfectly by providing converters high quality inkjet-printable materials in a variety of different facestock and adhesive formulations, with quantities and delivery times that enable them to capitalise on their investment in digital inkjet printing technology.'