Xaar buys FFEI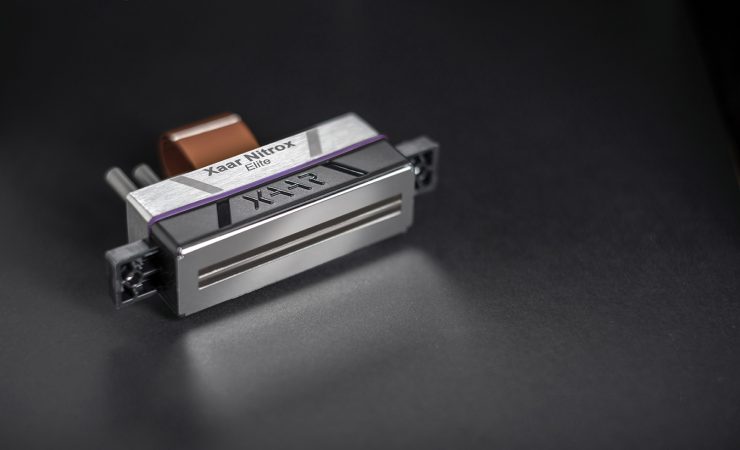 Xaar's latest printhead is Nitrox, wth its printhead business expected to benefit from the acquisition
Xaar has acquired print systems and printbar specialist FFEI, in an effort to accelerate the company's existing growth strategy.
Based in Hemel Hempstead, UK, FFEI is an integrator and manufacturer of industrial digital inkjet systems and digital life science technology, with many years of experience in managing technical integration and engineering projects. The company has established several joint ventures with world-leading organisations in both digital inkjet and life sciences.
The initial cash consideration of £3.7 million was paid on completion, which reflects existing FFEI free cash reserves, with an additional £5.4 million deferred consideration to be paid out over three years. Xaar's board expects the acquired expertise and resource to be utilised for projects that will drive long-term profitable growth in its core printhead business.
As indicated, the addition of FFEI strengthens Xaar's capabilities and skills, and will help to provide a more comprehensive offering for its growing number of OEM and user developer integrator (UDI) customers. The acquisition will also allow Xaar to target additional opportunities in vertically integrated technologies and systems.
Xaar CEO John Mills said, 'Having restructured and stabilised our core printhead business, the acquisition of FFEI will accelerate our strategy and expand our customer offering in a range of markets. As well as providing a number of ready-made solutions, the acquisition will further enhance Xaar's world class expertise.
'I've personally known the FFEI team for many years and have long admired its capabilities having previously worked closely with the company. We are very excited to welcome FFEI to Xaar and look forward to integrating the business as we continue to deliver on our strategy.'
FFEI CEO Andy Cook and CFO Julian Payne will remain in their current roles and report to Mr Mills. Bob Wilson, FFEI CTO, will join Xaar in a senior position within the printhead business, where he will focus on delivering technologies for the company's UDI customers.
Mr Cook said, 'We are delighted to become part of Xaar which represents a fantastic opportunity for the business to develop and grow. Xaar has been a long-term market leader with great technology and great people and is a perfect fit for the business.'
Receive the 2021 Inkjet Buyer's Guide alongside the July/August 2021 issue of Digital Labels & Packaging by registering here, for free