Xeikon to help Chinese market grow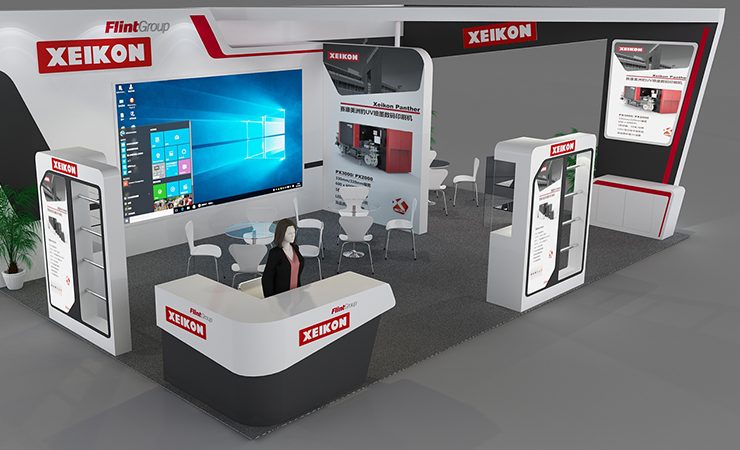 A 3D render of the Xeikon stand at China Print 2021
Xeikon sees the forthcoming China Print 2021 as an opportunity to meet with the country's print industry, update the market, and help prepare printers in the area for future growth.
Now in its 10th year, China Print 2021 takes place at the New China International Exhibition Center (NCIEC) in Beijing on 23-27 June. The International Forum for Printing Development will be held during the exhibition, as well as various conferences and seminars.
Xeikon will likewise seek to impart its knowledge on the market in China, from which technology is the best fit for each application/business, to where companies can find growth by looking at end-use applications and current trends. The digital press manufacturer will also use the opportunity to showcase its latest technologies for multiple digital production applications, such as its new Sirius platform for graphic arts and commercial print markets. Samples and practical information on both its dry toner and UV inkjet digital technologies for label and package printing will be provided.
Klaus Nielsen, director and general manager Xeikon Asia, said, 'After a difficult period due to Covid-19, we are looking forward to meeting the Chinese printing community and presenting our latest digital solutions at this exhibition.
'The Chinese market is ever expanding. We know that printers and converters are facing a diversity of challenges from their customers' ever-growing needs and expectations for creative and unique products. Also, online ordering has increased the need for automation, higher quality colour controls and faster production speeds. With over 30 years of pioneering digital technologies, Xeikon has much to offer the Asian markets.'
Jackie Chen, Xeikon sales manager, Greater China, noted, 'Printers in China are looking for new digital solutions, new and innovative technologies, and new pathways forward to drive business growth. At China Print, we are further launching our UV inkjet product range to the Chinese market. This will give us a superior offering meeting the needs of printers in the durable and sustainable label space and positioning Xeikon as the only manufacturer with inkjet as well as dry toner offerings for multiple applications. At China Print 2021 Xeikon will be on hand to help printers move forward, stand out from the competition and secure their business for the future.'