Domino targets APAC growth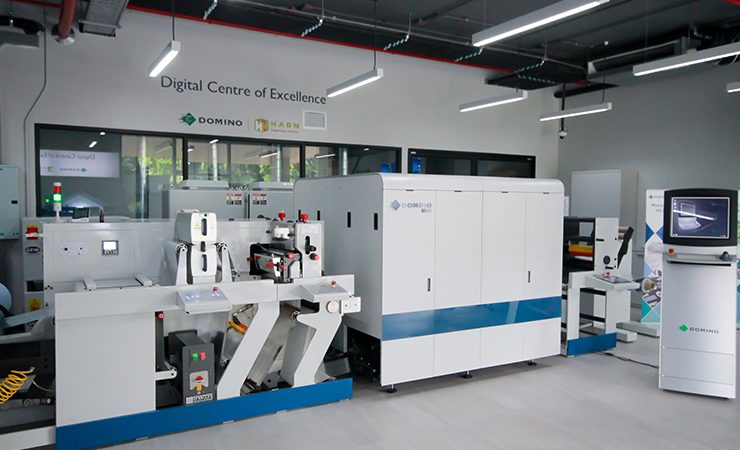 A Domino inkjet digital engine installed at the new Digital Centre of Excellence in Thailand
Domino Digital Printing Solutions has opened a new Digital Centre of Excellence in Bangkok, Thailand, to drive growth of its digital printing product range across the Asia-Pacific region.
Established in collaboration with long-term partner Harn Engineering Solutions, the centre will serve as a showcase for the potential of inkjet digital printing.
Mario Fanton, director, digital printing, Asia-Pacific at Domino, said, 'Asia-Pacific is a key growth market for digital label printing, with an increase in the requirement for personalisation and variable data printing and we're seeing a host of opportunities for Domino in this region.'
Domino and Harn have worked together since the late 1980s. Today, Harn provides sales, marketing, service and support for Domino's digital inkjet printers in Thailand and Vietnam. This long-standing partnership, Harn's location and its size – over 250 employees – made Bangkok the natural choice for Domino to locate its Digital Centre of Excellence to support Domino's digital inkjet growth in the Asia-Pacific market.
Thammanoon Tripetchr, managing director at Harn Engineering Solutions, noted 'Inkjet digital printing is gathering momentum in Asia-Pacific, and we're convinced that inkjet is the future of the industry. Through the deployment of this technology, we're certain that our customers will be able to achieve the greater return on investment they're looking for.
'With its long and highly established brand name, heritage and trusted global reputation, Domino is the market leader in providing digital inkjet printers and solutions. Our partnership with the company has gone from strength to strength as its digital portfolio has expanded, and we look forward to continuing to work closely with Domino to mutually develop and grow our businesses. We place great emphasis on delivering exceptional customer experience and service. We are confident that this, as well as Domino's digital and colour management knowledge and expertise, will prove successful.'
Domino is on course to achieve 1000 global installations of its Generation 6 piezo drop-on-demand inkjet systems, including its high speed K600i monochrome variable data printers and N610i digital colour label presses.
Mr Fanton continued, 'We're delighted to announce the opening of our Digital Centre of Excellence in partnership with Harn Engineering Solutions, with whom we've enjoyed a long and fruitful working relationship. We're confident that, with its history and culture of strong customer service, Harn will continue to enhance our commercial and technical support for both existing and prospective Digital Printing customers in Thailand and Vietnam.
'The Digital Centre of Excellence represents an exciting opportunity to drive growth and sales across the Asia-Pacific region. This new facility will be used for pre-sales, sampling, product demonstrations (live and virtual) and for post-sales customer training and development activity. There has been a huge amount of hard work behind the scenes to make the Digital Centre of Excellence a reality. It's a truly great achievement from everyone involved, particularly given the unprecedented challenges due to Covid-19 over the past 12-15 months. We now have a solid platform to expand our digital printing inkjet solutions business in the region.'