First HP PageWide corrugated press installed in China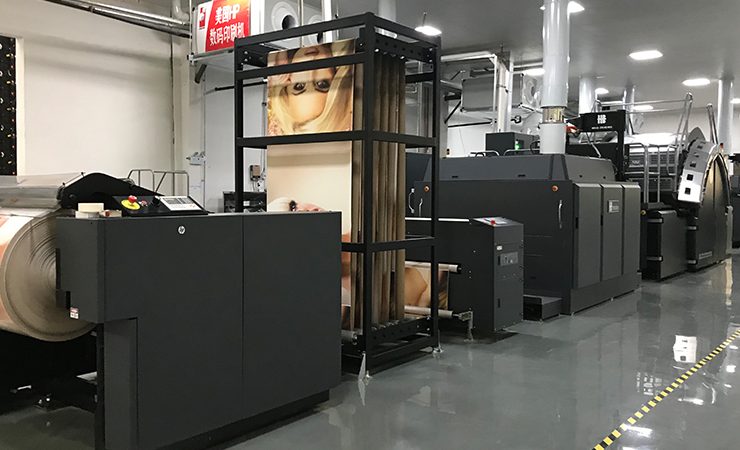 Xiamen Hexing Packaging has acquired China's first HP PageWide digital press, an HP PageWide T400S, launch high-volume digital printing services
Xiamen Hexing Packaging (HXPP) has acquired China's first HP PageWide digital press, to help it meet the growing demand for customised corrugated packaging.
This has seen an HP PageWide T400S installed at HXPP's production site in Huayi, Hubei, which will be put to use to help HXPP to launch new corrugated packaging services and achieve large-scale production of digitally printed corrugated products.
HXPP is a provider of corrugated packaging products across Asia, with around 60 manufacturing sites in China, and four R&D centres. Its main products include high-end corrugated cartons, cardboard, and cushioning packaging materials. It serves a number of technology, food and FMCG brands in the industry.
Mr Xiao Kang Du, vice general manager of United Creation Packaging Solutions, HXPP Group, commented, 'HXPP insists on being customer-centric, striving to respond quickly to customer needs, continuing to create long-term value for customers that will ultimately benefit the packaging supply chain.
'With HP's digital printing products and solutions, we are able to realise the demand for mass production of personalised and customised printed products, making packaging a new marketing tool and a communication bridge between brands and consumers.
'While helping brand owners stand out, our company is able to explore more business opportunities and achieve a win-win situation.'
The 1066mm-wide HP PageWide T400S digital press is a digital pre-print option for corrugated liners designed for industrial-grade production of corrugated packaging. True water-based inks are certified by UL Ecologo and PTS certification for recyclability will further help HXPP achieve its sustainability goals. This will also help HXPP stay ahead of the curve in a market with increasingly stringent environmental requirements.
Nick Price, HP PageWide APJ business manager, said, 'By joining hands with an industry pioneer, HP will continue to give strong impetus to the digitalisation and customisation of the corrugated packaging industry in China
'As a leading brand in the digital printing industry, HP has always been committed to using its leading equipment, solutions and resources to help our customers fully develop their own potential, expand more possibilities to serve end users, and create more benefit opportunities for themselves. We also look forward to working with more like-minded customers to promote the positive development of the digital printing industry.'
Read more on the market for digital corrugated printing in the July/August 2021 issue of Digital Labels & Packaging; register here to receive the magazine, for free