Kama updates portfolio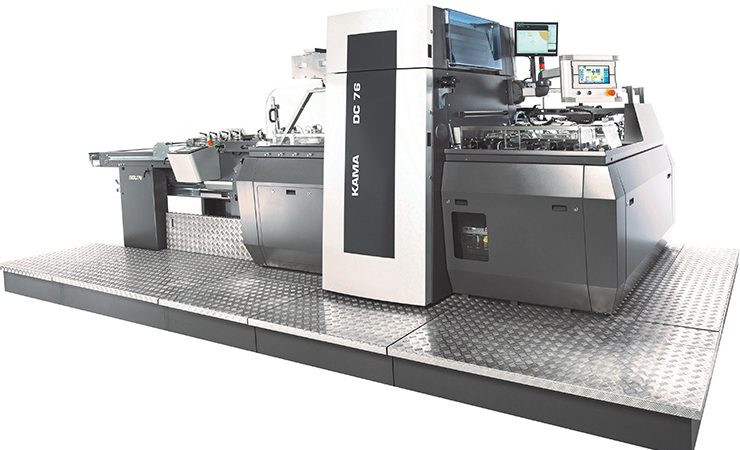 Kama's DC 76 features a redesigned stripping and blanking unit
Germany-based machine manufacturer Kama has introduced a range of developments for its equipment, and designed to bring about advances in print converting, embellishment and short-run folding carton production.
For facilitate the latter, this has included a redesign of the stripping and blanking unit of its DC 76 die-cutting machine, and an increase in machine performance of 30%. This helps create an efficient workflow for short-run folding cartons, according to Kama, from die-cutting and creasing, to automated inline stripping and blanking without tools. Further, setting up the DC 76 SBU with the programmable SBU is even more operator-friendly and quickly done with the latest release of the JobManager software.
These developments are supported by advances to the automated FlexFold 52i folder gluer. For example, a new and optional inline AutoBraille module makes the system suited for short runs of secondary pharmaceutical packaging.
Also new is the 'Big Bite' gripper for Kama's ProCut 76 Foil. The gripper is able to transport substrates from 100gsm paper to 3mm -thick hardcover cardboard. 'Big Bite' opens extremely wide, both, upwards and downwards, so that voluminous substrates, heat-treated, wavy, laminated and corrugated sheets are guided safely through the machine.
AutoRegister AR³ for the company's die-cutting systems rounds out its latest developments. This allow's Kama's die-cutters to achieve 'maximum' register accuracy, even for sheets cut after printing or with multiple finishing operations. Servo motors align in X and Y direction plus skew adjust. This makes AutoRegister AR³ a 'useful and quality-securing feature' for the demanding packaging market, noted Kama, as well as for labels and tags for luxury brands and refined folding cartons for chocolates, gifts or cosmetics.
ProCut 76 and FlexFold 52i can be connected to the printer's MIS/ERP system for an integrated workflow.
Kama general manager Bernd Sauter commented, 'We want to support job printers and packaging manufacturers to process the critical short runs more easily and profitably, and to benefit from the megatrend towards versioning and small delivery units with our efficient solutions and streamlined processes.'
Read an update on the latest equipment and technologies, and an in-depth assessment of digital and the pharmaceutical market in the July/August 2021 issue of Digital Labels & Packaging; register here to receive the magazine, for free