GlobalVision releases Verify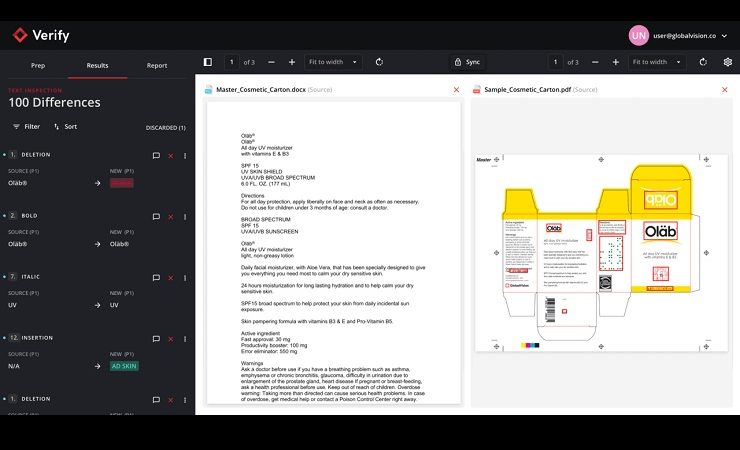 Verify is claimed to help companies in regulated industries optimise inspections and accelerate the asset development process by catching deviations at every revision point
GlobalVision has released Verify, a redesigned web application built for fast and accurate quality inspection.
Verify is claimed to help companies in regulated industries optimise inspections and accelerate the asset development process by catching deviations at every revision point.
Following the successful Beta test phase, Verify has been further refined to deliver powerful text, image, and spelling inspections that integrate within the file creation workflow. Proprietary APIs allow customers to connect Verify with their artwork management systems and other platforms, allowing them to run quality inspections directly within the asset development process. This allows for a secure transition between products to further streamline user workflows, according to GlobalVision.
Users can also ensure that text and graphics are accurately transcribed from reference materials to accelerate the review process. Inspection results, comments and annotations can be shared across workflows to ensure the correct changes are made at each revision stage.
A faster onboarding and training process means users can easily begin running inspections after implementing Verify. With infrastructure developed for continuous innovation, users will receive frequent updates that further add value and ensure their asset development process remains seamless and up-to-date.
Michael Malz, director of product at GlobalVision, said, 'Verify is a complete rethinking of the user experience. We optimised for speed, simplicity and workflow integration. Under the hood is a scalable web infrastructure based on AWS that delivers powerful inspection technology to our customers.'
Arpad Lehoczki, business development manager for Verify at GlobalVision, added, 'We are thrilled to officially release our new web-based application built from the ground up. Verify represents not only the latest evolution of GlobalVision's inspection technology but also unlocks the infinite possibilities of integrating directly with our customers' workflows, bringing inspections closer to where teams approve their work.'
Read more about the role of digital in the highly regulated pharmaceutical market in the July/August 2021 issue of Digital Labels & Packaging; register here to receive the magazine, for free