GM launches LR250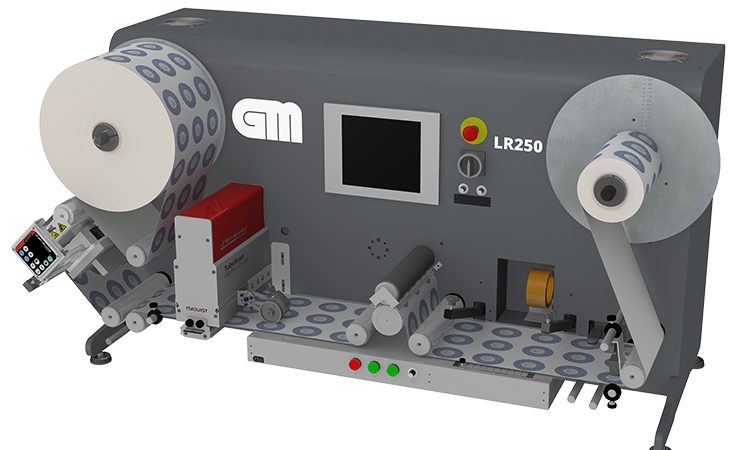 LR250 comes with a built-in sensor for missing label detection, but for more demanding applications, such as pharmaceutical labels, LR250 can be configured with a video camera for 100% advanced print inspection and verification
Converting equipment manufacturer Grafisk Maskinfabrik (GM) has developed LR250, a new label inspection rewinder introduced in response to market demands for a cost-effective option.
The new label inspection rewinder has been built as a flexible entry-level model to boost everyday productivity. LR250 can process label rolls up to 250mm in width at a high production speed of 200m/min. It features two-way rewinding capability, integrated web guide and a label counter as standard. An adjustable splice table features pneumatic splice clamps and can be fitted with a splice detector.
It comes with a built-in sensor for missing label detection, but for more demanding applications, such as pharmaceutical labels, LR250 can be configured with a video camera for 100% advanced print inspection and verification. The missing label feature works with a sensor. Any missing label that is detected will cause the machine to stop. The computer will then calculate the position of the error and reverse the web until it is aligned with the splice table. Once the missing label has been replaced, the web is re-checked and the rewinder completes the job at full speed.
The option to integrate a video camera upgrades the capabilities of the machine to include full print quality inspection. GM has partnered with BST eltromat and Nikka Research to offer 100% quality inspection for printed labels. The camera will be connected to an external system, which checks the print for faults and verifies it against the master PDF file.   
The LR250 has further been developed with tension separation for working with thin, sensitive materials and PET liners. Thanks to the centrally placed nip roller, the web can be unwound with one tension and rewound with a different tension to avoid stretching the material. A capacitive sensor for clear-on-clear labels can further extend the range of materials that can be processed.
GM CEO Uffe Nielsen commented, 'The LR250 is a versatile machine with some innovative built-in features that will ensure all your rolls are delivered in top condition with all labels present and correct. We have developed the rewinder with different inspection options, so there is a version that suits every budget without compromising on quality.'
For customers requiring variable data capability, there is space to add a full UV inkjet printer for coding and marking. GM works directly with the likes of Domino, Markem-Imaje and Rea Jet, with systems from other manufacturers also able to be fitted on demand.
Mr Nielsen said, 'As fault-free label production has become the norm, our customers want machines that enable them to deliver perfect rolls of labels to their customers, every time. This little label inspection rewinder is the perfect solution for that, but don't let the size fool you. We have built the LR250 with so many clever options that it can grow with our customers' business and tackle a wide range of label requirements.'