Partners push inline system for single-dose sachets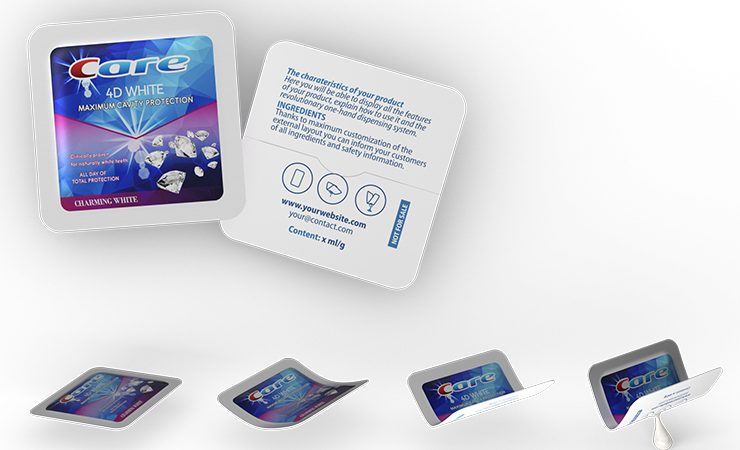 The recyclable single portion sachets can be printed in multiple languages with customised brand messaging and user instructions
V-Shapes has partnered with TrojanLabel and Sihl to create an inline converting and filling system for single-dose, recyclable sachets.
V-Shapes is a supplier of vertically integrated products and services for convenient, hygienic and sustainable single-dose packaging. It has now integrated TrojanLabel's T2 high-volume digital inkjet press into its Prime packaging machine. This delivers high-quality 1600dpi printing inline on sachets using designed-for-recycling materials. These have been developed by V-Shapes and its partners, such as Sihl, to be printed using inkjet digital technology.
V-Shapes sachets are identified as a brand-new way to safely, affordably and sustainably pack products in unique single-dose packaging that can be opened in a single gesture using one hand. Applications range from hand sanitiser to honey, and more. These recyclable single portion sachets can be printed in multiple languages with customised brand messaging and user instructions. For end users, up to 98% of the packaged product can easily be dispensed in one gesture using just one hand, resulting in little product waste, no mess or spillage, and a hygienic way to distribute and dispense a wide range of products.
By putting the TrojanLabel T2 inkjet digital printer inline with the V-Shapes Prime packaging line, manufacturing of V-Shapes sachets is, 'even more productive, setting to zero the need for a pre-print phase and delivering the fast turn times that today's brands are looking for.'
V-Shapes CEO Christian Burattini said, 'Beginning with a roll of substrate comprised of a V-Shapes proprietary semi-rigid bottom layer and an upper layer of flexible packaging material, the V-Shapes vertically integrated solution produces unit dose packaging with high-quality branded content on the the upper or front layer. Prime applies a V-Shapes patented pre-cut on the V-Shapes developed 100% recyclable polypropylene semi-rigid lower layer, followed by exact dosing of product, sealing and cutting to form customized filled sachets at up to 2100 units per hour.'
V-Shapes sachets have been verified by Tomra Recycling, a designer of customised sorting and recycling systems, as accurately detectable as 100% polypropylene in processing of industrial recycling waste streams.
The best option for the flexible top layer is said to be Sihl's Artysio flexible packaging material – specifically Artysio Packaging 5413 NW P&P PP DM VFFS 94 W –, leveraging Sihl's core competencies in creating innovative options with its premium coatings. This includes alignment between the speed of the Memjet printheads that the TrojanLabel T2 runs, the amount of water contained in the ink, and the ability of Sihl substrates with special coatings to absorb water and fix pigments for high quality printing that dries immediately during the inline printing process. The Sihl Artysio family of recyclable functional flexible packaging films for aqueous inkjet printing have been certified by Interseroh as having 'excellent' industrial recyclability. The V-Shapes-developed substrates are currently in the Interseroh certification process as well.
Ronny Kunze, director of global sales and business development for packaging at Sihl Group, said, 'Not only are our coatings optimised for use with aqueous inkjet inks, but they are also fully compliant with direct food contact, scratch and crack resistant, and deliver the widest possible colour gamut, especially important when printing brand colours.
'We have worked closely with V-Shapes on sealing and required barrier properties as well, suppling it with the best possible resin recipes to deliver excellent results as well as industrial recyclability. We look forward to our continued work with V-Shapes as both companies want to invest in packaging with a sustainable future.'
Mr Burattini added, 'Working with Sihl as we developed our innovative vertically integrated single-dose packaging solution has been rewarding, and we have benefited from their deep knowledge of coatings, substrates, and how inkjet printing of our sachets can be optimised.'
He continued, 'The compact footprint of this printing/converting/filling equipment means it can be conveniently operated in relatively small spaces using a single operator and delivers a robust return on investment for packaging converters/fillers and their brand owner clients.'