Gietz takes over Mabeg Systems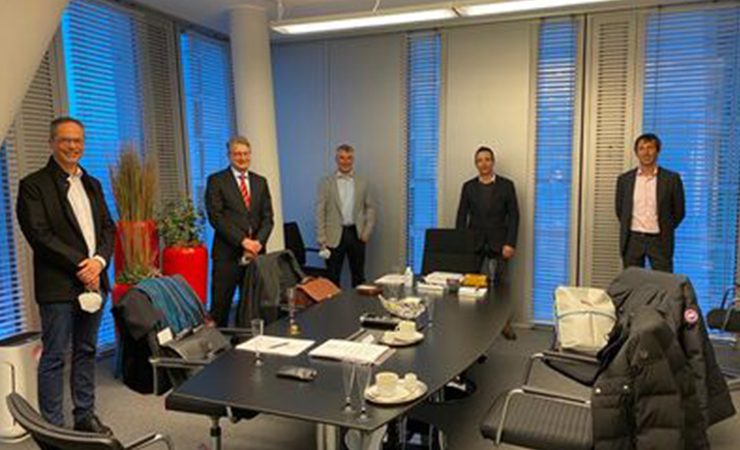 Pictured (from left): Dr Daniel Burkhardt, Michael Grübel, Jens Gebel, Hansjörg Gietz and Michael Keie
Gietz Group has taken a majority stake in Mabeg Systems, securing the supply of feeder systems for its machines.
Gietz is a Switzerland-based manufacturer of high-end finishing and converting systems for the printing and packaging industries. Germany's Mabeg Systems is a builder of high speed feeder systems and reel sheeters for cross-cutting of webs into sheets, as well as building customised sheet transport lines for inspection, coding and inkjet applications, and combinations thereof. The sheet transportation lines are used in high-end packaging and as a platform for digital printing machines.
Mabeg Systems was founded in 1946, and has been managed by Jens Gebel, CEO, and Michael Grübel, CFO, as managing partners since 2009. In 2011, Dr Daniel Burkhardt joined as managing director and partner. After almost 10 years together, Mr Gebel and Mr Grübel are handing over their shares to Gietz Deutschland GmbH, which thus becomes the majority shareholder. Dr Burkhardt maintains his shares and will continue to manage the business as CEO. He explained, 'In recent years we have been able to continuously expand Mabeg Systems product portfolio. Our sheet transport lines came to the sheet feeders and winder. Today these are used for coding, serialisation, and track and trace solutions in the packaging sector and as the basis for digital printing machines. As a result, we are now a specialist machine builder in several markets as an OEM supplier and an end customer provider. With Gietz we have a majority shareholder whom we have valued very much as a customer and partner for many years and who also knows our work as a traditional machine builder. We look forward to cooperation.'
Mr Gebel, who is leaving his position as CEO and managing director at Mabeg Systems, but will remain with the company for the long term as director of operations, said, 'Especially nowadays it is important for business partners, regardless of whether they are customers, suppliers or banks, that the baton is handed over early and that continuity is maintained. We achieved this with our partner of choice Gietz. The merger of the two companies will make it even better to be able to offer our customers around the world additional new joint product innovations and professional service. I'm really looking forward to the cooperation and future.'
With this transaction, Gietz noted that it has secured the supply of the feeder systems for its own sheet-fed foil stamping machines, as well expanding its product portfolio.
Gietz managing director Hansjörg Gietz said, 'As a medium-sized Swiss mechanical engineering company, it is of course a big step and responsibility to make an acquisition in Germany. For both companies, this is a clear sign of further development and growth. Both companies are active in the segment of high-quality packaging and so we can jointly offer our customers comprehensive concepts.
'I am extremely pleased that we succeeded in taking over the majority of Mabeg Systems in the course of this succession plan and that Dr Burkhardt as CEO and Mr Gebel as director of operations will continue to work for Mabeg Systems and thank Mr Grübel for that remaining months as CFO and the orderly handover.'