Print UV implements hybrid concept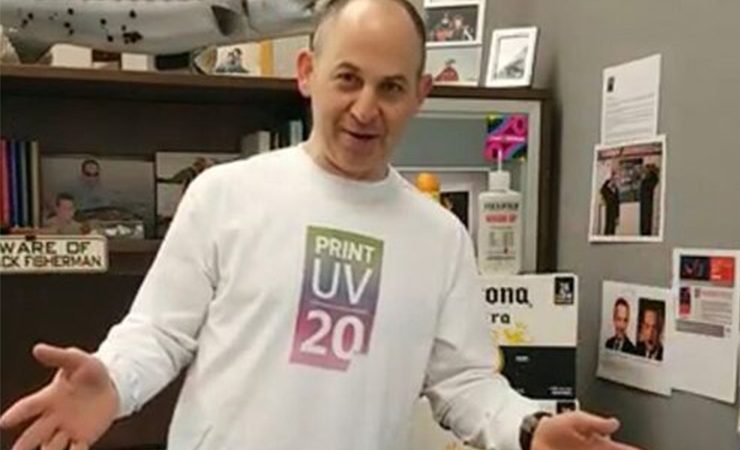 Print industry mouthpiece Warren Werbitt will resume keynote duties at Print UV 2021, having been lined up to open the 2020 conference before its postponement due to Covid-19
Registration for the 2021 edition of the annual Print UV conference is now open, with delegates able to opt for in-person attendance on-site in Las Vegas, or to participate in the event virtually.
Print UV is an annual peer-oriented event targeted at those, 'looking to accelerate their profits in a dynamic and fast-changing print market.' Produced by an independent organisation, Print UV Productions, and now in its 14th year, the Print UV conference format is geared toward providing the content that printing service providers and packaging company owners, executives, managers and leaders need to make better decisions about the UV, UV LED and hybrid UV processes in their organisations.
The 2021 Print UV conference, with the theme 'Vaccinate your Business with Print UV', will take place 31 March to 2 April this year as an in-person event at the Wynn Encore Resort, Las Vegas, complemented by online engagement. On-site attendance will be limited this year due to Covid safety requirements, and those wishing to attend in person are encouraged to register early, via www.printuv.com.
Having postponed the 2020 event due to Covid-19, the organiser was thinking to push the Print UV conference event out another year to 2022, but after many requests were received by both attendees and sponsors, a hybrid platform has been developed.
Hans Ulland, conference co-founder and vice president at Print UV Productions, commented, 'Print UV is back, and this time better than ever, and with greater intensity to our market than ever before.
'After taking a one-year break during the outbreak of the Covid pandemic, we want to thank all of sponsors for holding steady with us while we worked through this unprecedented situation. Not only did our sponsors stay committed to the event, but our attendees did as well, with over 90% maintaining their paid registrations until we could become operational again.'
Print industry mouthpiece Warren Werbitt (pictured, top) will take on keynote duties at Print UV 2021, having been lined up to open the 2020 conference before its postponement due to Covid-19.
Mr Ulland continued, 'We will be holding an on-site event as normal at the Wynn Encore Resort for those wanting to travel safely and surely, and who are craving the value of in-person networking that so many of us dearly miss in our industry. We will also be holding the event online with on-demand replay this year for those that will still profit from key information on UV printing, but are not yet ready or able to travel, and we are proud to introduce our hybrid Print UV option for them.'
Find out about further industry events here, taking pace virtually and in-person