UL certifies KBD inks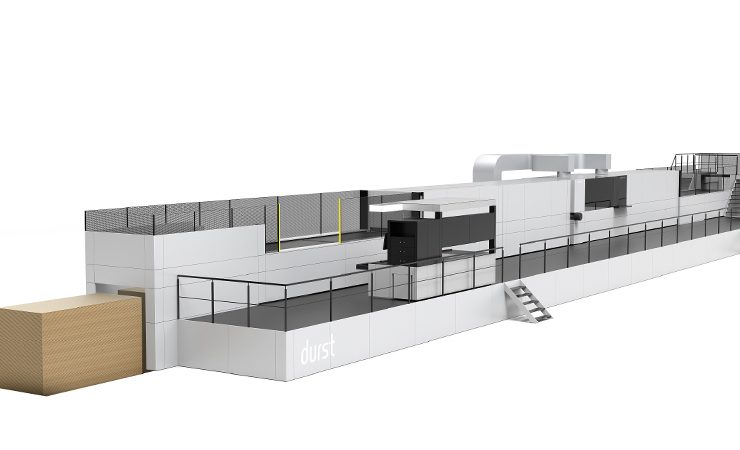 The Delta SPC Flexline Automatic press, upon which both inks can be run
Koenig & Bauer Durst has had its food-safe water-based printing inks UL Ecologo certified, demonstrating third-party validation of the products' sustainability performance.
This has shown that the Durst WT Food SP Ink and the Durst WT Food MP Ink product lines meet rigorous lifecycle-based environmental performance criteria as defined in UL's stringent Ecologo Standard (2801:2012 Standard for Sustainability for Printing Inks). Black, cyan, light cyan, magenta, light magenta and yellow inks have all been assessed and include no hazardous components defined by the Ecologo Standard.
The products achieved UL Ecologo certification following the evaluation of multiple criteria throughout a product's life, including energy use, waste disposal and toxic reductions, among other areas. Using proprietary water-based ink technology, the inks are designed with core technologies to provide automated, productive, food safe printing systems.
The inks are used in Koenig & Bauer Durst's Delta SPC Flexline Automatic 130 press. WT Food SP Ink has been engineered for fast print processes on corrugated materials and is used for single-pass printing. WT Food MP Ink is used in multi-pass printing.
Robert Stabler, managing director at Koenig & Bauer Durst, said, 'We have always been focused on offering safe and sustainable solutions for our customers, particularly as food safety, sustainability and packaging are constant topics of conversations for converters and brand owners.
'Our water-based inks ensure food safety compliance for primary packaging. Ecologo certification provides third-party verification that our products are manufactured in a way that minimize environmental impact.'