Kroha takes first next-gen Scodix machines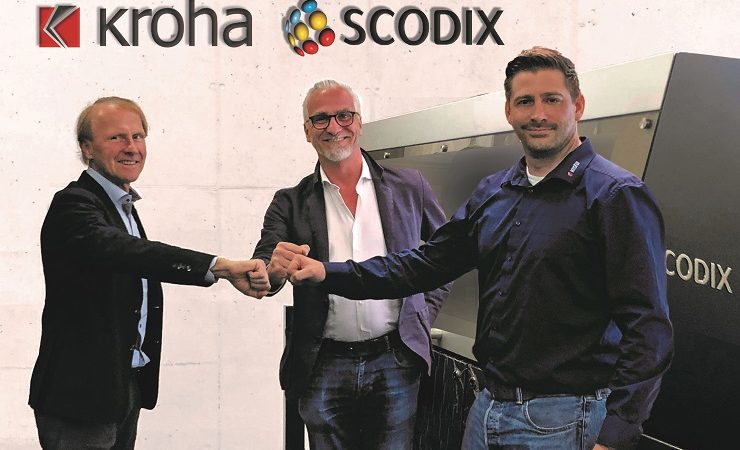 Pictured (from left): Dierk Schröder, Kroha managing director; Franz Repp, Scodix sales director, DACH region; and Florian Guggenbichler, Kroha Druck plant manager
German printer Kroha Druck is to install the first models of Scodix's new generation of digital enhancement presses.
Scodix has developed the next generation of its Ultra digital enhancement press series to target specific market segments. This is achieved through six new models – 1000, 2000, 3000, 4000, 5000 and 6000.
Kroha manufactures folding cartons and leaflets in two state-of-the-art plants in Barleben and Miesbach, Germany. The Scodix Ultra 1000 is intended for commercial and speciality print applications, and will be installed at Kroha Druck in December. This will be followed by a Scodix Ultra 6000, which is planned for installation during April 2021. The Scodix Ultra 6000 can handle the thicker substrates required for packaging applications – up to 2mm – and incorporates industrial pallet feeders and stackers. It has a larger format and comes with a simplified range of enhancements, compared to the Scodix Ultra 5000.
The two new Scodix Ultra presses to be installed at Kroha Druck will bring continued business growth opportunities, with the choice of multiple applications on one press, large sheet size, and added value on each enhanced sheet, no matter the run length. 
Florian Guggenbichler, plant manager at Kroha Druck, commented, 'The Scodix Ultra presses fit perfectly into our production with the B2 and B1 sheet size, and range of enhancing applications. This purchase is in line with our mission to be future-oriented and economically straightened for the benefit of all stakeholders.'
Nigel Tracey, vice president of business development and marketing at Scodix, said, 'Scodix is excited to welcome Kroha to the Scodix family and congratulates it on being the first to install both the Scodix Ultra 1000 and Scodix Ultra 6000. We know that these presses will allow Kroha to grow its business by expanding their production.'