Polish printer adds paper cups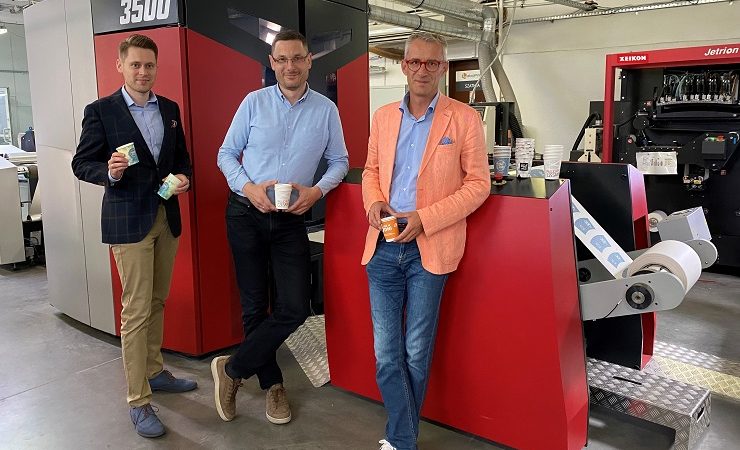 Pictured (from left): Michał Kuczkowski, Xeikon; Sławomir Góral, managing director at Labo Print; and Krzysztof Fryc, CEO and co-founder at Labo Print
Poland-based Labo Print has moved into digitally printed paper cups, delivered by its Xeikon 3500 digital press.
The converter, a European brand and label printer, has set up a new department for the manufacture of paper cups, adding to its existing portfolio. Utilising the operational performance of its Xeikon 3500 digital press with dry toner technology accredited for guaranteed food safety, the company can produce sustainable, personalised digitally printed paper cups.
The Xeikon 3500 was installed by Labo Print in 2018, principally to print labels using Xeikon's Ice toner technology. The Xeikon 3500 can print on a range of board types, as well as labelstocks, allowing Labo Print to move into a new market such as paper cups.
The overprinting of the substrate for the manufacture of cups is the first stage of the production process, therefore, speed and reliability is 'incredibly important'. Furthermore, the substrates used for the cups are quite demanding due to the formation of one or two coats with a moisture impermeable layer, which also functions as a binder when forming the cups under high temperatures. Labo Print is able to print paper cups utilising its client's choice of graphic design, in small quantities.
Krzysztof Fryc, CEO and co-founder at Labo Print, said, 'The addition of the Xeikon 3500 digital press has been a positive investment for us. The print and operational performance of the Xeikon 3500 has clearly met expectations both for Labo Print and for our clients. The Xeikon technology helps us to achieve our business objectives and allows us to continue our dynamic growth.
'The Xeikon 3500 press has proved its usefulness and satisfied the business assumptions we had made. In addition, the press offers the option to use a wide range of standard substrates for printing without the requirement to apply a primer or pre-treatment, including structural substrates.'