Maxcess and RotoMetrics merger brings benefits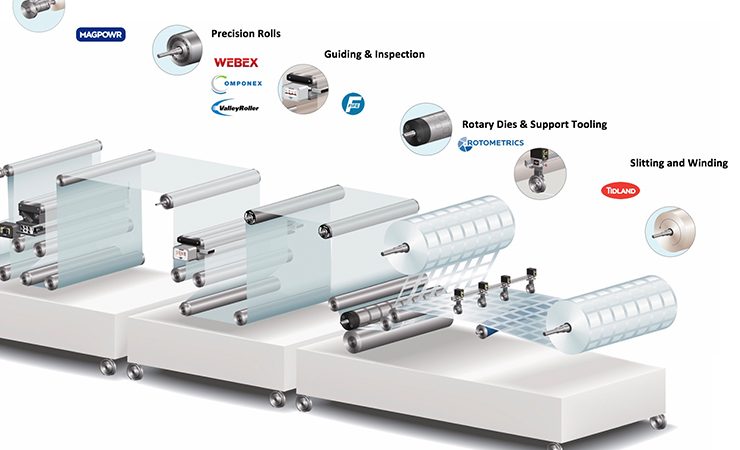 The Maxcess portfolio following the RotoMetrics merger, highlighted on-press
Maxcess, a provider of products and services for web handling applications, has cited some of the benefits its merger with RotoMetrics is delivering to customers, particularly during the coronavirus crisis.
Die-cutting specialist RotoMetrics and Maxcess entered into a merger agreement in January 2020 prior to much of the impact of COVID-19 being felt by societies and supply chains the world over.
At that time, the two companies coming together under the Maxcess International name was said to provide customers with, 'the most comprehensive product portfolio available.'
The merger was claimed to bring about increased technological innovations and value-added Industry 4.0 options, expanded geographical markets, a robust global footprint of manufacturing, sales and service offerings, as well as the broadest end-to-end product offering in the industry for rotary dies and support tooling, guiding, winding, slitting, tension control and precision rolls.
Speaking earlier in 2020, Maxcess CEO Odd Joergenrud said, 'The merger of these two world-class organisations will further expand our one-stop-shop offering, providing our OEM and end-user customers with the most comprehensive product portfolio available for enhancing their productivity and efficiency.'
Since then, the new organisation has begun several initiatives. introduced to help its customers 'run better, faster and smarter'.
Sean Craig, global vice president of R&D at Maxcess International, explained, 'An early R&D initiative to combine RotoMetrics' anvil technology with Fife's digital sensors is showing tremendous promise to help tag and label customers increase productivity. In addition, the integration of performance coatings from Componex, Webex, Valley Roller, Menges and RotoMetrics offer increased performance on a variety of roller products including nip rolls, idler rolls and more across a variety of industries, including packaging and medical applications.'
Maxcess is also expanding its Industry 4.0 digital options, creating opportunities for end-to-end monitoring and data collection, and allowing customers to run with minimised downtime and optimised line speeds. In addition, the company is actively connecting with its customers digitally, hosting webinars and creating new contact opportunities to share with its customers.
Molly Moroni, vice president, North American sales at Maxcess International, said, 'By highlighting our combined solutions, we've been able to help customers do more, which is increasingly important given the resource challenges customers are facing. Many of our customers deemed essential during this pandemic have been improving productivity and output of key PPE products. We encourage customers to reach out to their Maxcess and RotoMetrics contacts and let us solve your challenges during this challenging time.'