Wagner ramps up digital capacity with Durst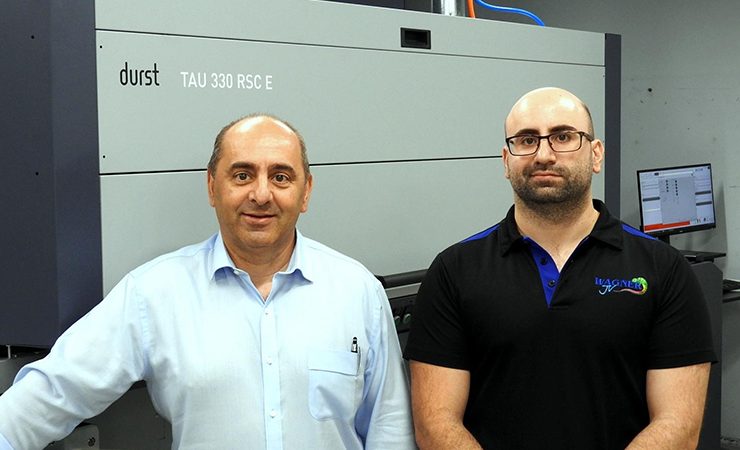 John (left) and Christian (right) Galea of Wagner Prestige Labels.
Sydney, Australia-based Wagner Prestige Labels has installed a Durst Tau 330 RSC E digital label printing press, tackling waste and digital capacity issues for the family business.
Wagner's choice of Durst's RSC technology was driven by speed, quality and environmental considerations, as managing director John Galea explained. 'We decided to ramp up digital colour capacity to the highest we could, and the Durst Tau 330 RSC E came up trumps. In only six months it has really proved itself, to the point that digital is now between 30-35% of our business. The quality of the labels is right up there with flexo and letterpress.
'Another important benefit is that waste is greatly reduced, with the threaded meterage on the Durst Tau 330 RSC E even being able to be drawn back and printed. Waste is a big issue for label printers, especially with multiple versions, so anything we can do to reduce it is good for the environment.'
Helmuth Munter, Durst segment manager for labels and package printing, said, 'The Durst Tau 330 RSC E was originally launched to bring affordable digital production to increasing numbers of small converters and sets the base for the future of industrial digital inkjet printing in the label industry. In line with our 'We Keep You Printing' strategy, it's also proving to be a real attractive prospect for forward-thinking companies like Wagner Prestige Labels that need variable, versatile, adjustable and configurable digital printing systems to expand their business reach while enjoying other benefits such as waste reduction and a significant jump in production capacity.'
Mr Galea concluded, 'Before the investment in Durst's RSC technology we were falling short on digital capacity. Our customers – trade, print brokers and end users – are tending to order shorter runs, more frequently, so we carefully researched all the available options. The Durst has proved to be the ideal choice.'
Read more about entry-level digital presses in the January/February issue of Digital Labels & Packaging