Print needs protection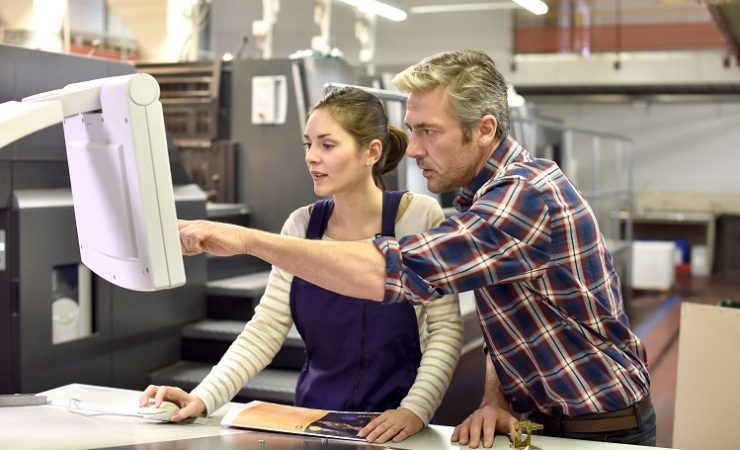 IPIA and BAPC have been in close communication with the UK's BEIS department to advocate on behalf of the UK print industry with information 'from the coal face of our sector'
BEIS has confirmed 'all print production can currently remain open for business'
Koenig & Bauer Flexotecnica classified as a system-relevant manufacturer
ECMA calls for an immediate suspension of BRC Global Standards audits
Make sure to visit our 'Going viral' coronavirus hub for further updates 
In the face of the ongoing global coronavirus (COVD-19) outbreak, trade bodies and industry associations have tasked governments around the world to make protecting the print industry a priority action.
drupa director Sabine Geldermann, also global head of print technologies at Messe Düsseldorf, has made clear the importance that the print industry 'does not suffer a complete standstill in production'.
She commented, 'There is no doubt that there will be declines and lasting economic setbacks. Government measures and aids are on the way. However, it is important that the industry does not suffer a complete standstill in production as a result of the current measures.'
The British Printing Industries Federation (BPIF) has called for further direct support for the printing industry during the coronavirus crisis. As a body representing one of the UK's key manufacturing industries with an estimated £14 billion turnover, BPIF has reported 'unprecedented pressures' on its members, the vast majority of whom are small- and medium-sized enterprises (SMEs).
Central to the federation's lobbying efforts are a number of measures that it's been asking the UK Government to implement. These include: extending business rates relief beyond the retail, leisure and hospitality sectors, in order to match the economic impact being felt more widely across UK business; widening of the key worker category to include skilled workers in key supply chains in the print and packaging sector; deferment of VAT, PAYE and NIC payments, to provide direct support for companies and individuals to reduce and avoid the impact of layoffs; and a delay to the implementation of the increase in the UK's national minimum wage.
BPIF has also called for specific and immediate support and guidance for manufacturers, to lend confidence that employees can be retained and paid during the business downturn. Also, for companies having to consider lay-offs, BPIF has requested measures to help affected staff that are backed by the UK Government.
It has also stated that asking businesses to borrow, with an opaque and lengthy process likely to include personal guarantees, is not sufficient.
BPIF CEO Charles Jarrod commented, 'The impact of COVID-19 is equivalent to a natural disaster. Targeted and intense Government support to those businesses and individuals in need will minimise the biggest harms and enable our industry, and the economy, to recover more quickly once we are through the worst. This needs urgent and immediate action.'
Also In the UK, the Independent Print Industries Association (IPIA) and the British Association for Print & Communication (BAPC) have been in close communication with the UK's Department for Business, Energy, and Industrial Strategy (BEIS) to advocate on behalf of the UK print industry, and provide BEIS's intelligence gathering unit with information 'from the coal face of our sector' in regards to the impact of COVID-19 and what thousands of businesses need in order to remain solvent and retain their staff.
At the request of BEIS, IPIA and BAPC have produced an impact statement, which BEIS has assured will be represented to Government policy makers as they develop financial schemes to support the UK's industrial manufacturing base. BEIS has also requested that to be provided with information from the UK print sector as to the immediate impact COVID-19 is having and what specific support is needed to prevent permanent and wide-spread economic damage. 
The IPIA/BAPC impact statement reads as:
'Our industry is the fifth largest producer of printed products in the world, and we generate in the region of £13.8 billion for the economy and employ 116,000 people across 8400 businesses in the UK directly. This is in addition to the enormous supply chain that relies directly on the print industry for the majority of its income and indeed its day-to-day communication needs.
'Our members and the wider industry are directly impacted by the seismic shock to the economy and specifically to the leisure, events, travel and entertainment industry – as a huge number rely on the printing of marketing and communications material, which has quite literally stopped dead in the last week.
'One IPIA member has specific exposure to the leisure, retail, and marketing industry as its major clients. As such it has lost 75% of its total business income just in the last week alone; this amounts to a £250,000 reduction per month. As such the proffered grants will not begin to fill this hole and allow it to continue to pay wages.
'It is also not in a position to take out a Government backed loan. This is because the required sums that would be required to pay staff and static overheads for the next three to four months plus interest, would make the business financially untenable on a return to normal trading conditions and it would go into insolvency anyway — given the tight profit margins it operates on. This is typical of every association member spoken to so far. 
'As such, it is already making the decision to make its staff redundant, pay them a month's salary at most from its reserves, and it will need to declare insolvency within the week unless: staff wages can be paid directly by central government to a suggested minimum capped level of £200 a week each, PAYE/NIS payments are frozen, and all static overheads are frozen, such as gas and electricity, premises rent, debt repayments.
'It can then continue to operate to service its 25% of jobs left on a staff rotation basis and survive with its reserves until the crisis abates.' 
The associations continued, 'From our twin associations initial survey estimates, this is the situation facing around 6000 of our 8400-business industry. With the remainder only capable of hanging on for a maximum of two to three months to pay wages, and less than 10% in a situation to take out a Government backed loan to remain solvent. 
'The other highly critical concern is that, unlike machine parts, cars, electronic goods and so forth, demand following the COVID-19 crisis coming to an end will not replace this lost income for our industry, which is gone for good. For example, an individual consumer may decide to delay purchasing an electronic entertainment item until after the crisis ends, as such there will be a huge spike in intense demand once the crisis ends and incomes return to normal and those purchasing decisions are all squeezed into a small timeframe. 
'But print is largely bought on a weekly and monthly basis as need requires. There is now simply a near complete cessation in need, and when the crisis ends it will at best resume simply at normal pre-crisis levels. This means there will be no way for the majority of industry to withstand servicing extra debt taken on to remain solvent at this time.'
IPIA and BAPC concluded, 'Given the aforementioned contribution to GDPR our industry makes and its national employment levels, we are simply facing almost complete devastation as a sector if our businesses cannot retain and pay staff and provided with special measures.'
In a further development, IPIA and BAPC have met with BEIS and a key piece of confirmed guidance is that – following the representations of our industry's associations – all print production can currently remain open for business.
BEIS provided clarity that print businesses do not need to seek special status in order to trade, and any business that wishes to continue production as it has orders coming through can continue, although it must heed safe working practices. The exception is that public-facing print shop counters should be closed. Those print business staff who cannot work from home, and need to attend their place of work physically to carry out their job, can do so.  
BEIS was clear that the UK Government's furlough scheme's flexibility will continue to be evolved as it receives feedback from industry about how to maximise its effectiveness. BEIS also took under consideration its withdrawal will need to be graduated once the crisis abates. 
To continue providing up-to-date information to the UK Government, IPIA and BAPC have requested all print industry businesses who read its impact statement to provide them with information on the immediate impact COVID-19 is having and what specific support is needed to prevent permanent and wide-spread economic damage. This can be provided via a short survey.
BPIF has already produced an analysis of the UK Government's announcement regarding support for business from 17 March, with it and further detailed support for BPIF members available here. BPIF is also to issue a business impact survey to all members on 23 March.
In the US, the Printing Industries of America (PIA) has called upon Congress to take swift legislative action to mitigate the economic impact of this pandemic on the printing and graphic communications industry specifically calling for the creation of a federal emergency program to provide compensation for COVID-19-related employee leave.
Michael Makin, PIA president and CEO, said, 'While initial legislation (H.R. 6201, Families First Coronavirus Response Act) calls for a federal mandate requiring businesses with 500 and fewer employees to provide 12 weeks of paid leave, PIA is hearing loud and clear from its members that there is not liquidity nor tolerance for debt available to fulfil this mandate. The result could lead to an acceleration of layoffs and closures, causing loss of employer-sponsored health insurance for workers at the time it may be most needed.
'Additionally, policy promising future employer tax credits – while helpful for longer-term stability – will not address the cash haemorrhaging PIA member companies are experiencing now due to idled presses, customer closures in key verticals like retail, hospitality and transportation, and the uncertainty of future business. Government policy solutions that can be implemented immediately are required and must move quickly through the legislative process and to the President's desk.'
PIA, along with dozens of other industry trade associations across America, has submitted a formal request to urge Congressional leadership to act on the creation of a federal emergency leave plan as soon as possible. Read the request in full here. 
Australia's Print and Visual Communication Association (PVCA), formerly the Printing Industries Association of Australia (PIAA), has made clear that the country's first stage COVID-19 restrictions 'DO NOT mean your business needs to shut down.' Australia's Stage 1 restrictions come into effect at noon today (23 March), and relate to places of social gathering. These relate to restaurants, cafés, pubs, entertainment venues, gyms, and religious gatherings.
PVCA noted that other facilities, such as print and packaging businesses, are not yet impacted, but will be considered under Stage 2 restrictions, if the National Cabinet deems necessary. Individual State Premiers may make earlier decisions about other business shutdown measures. PVCA is in contact with the offices of all State Premiers, and will advise members within each state of any additional information, services or restrictions.
PVCA stated, 'Continue to operate within the existing safe work practices, social distancing guidelines, one person per four square metre rule, and monitoring of health.'
PVCA will be providing members ongoing industry updates via video link, and video IR seminars. PVCA will guide all members on the process to apply for SME grants (ranging from AUD$20,000 to AUD$100,000.
ECMA – the European Carton Makers Association – has requested a deferment of all new tenders during the COVID-19 crisis.
As an association, ECMA represents 500 carton manufacturers in 29 countries, supplying packaging into the pharmaceutical and food sectors. 'The COVID-19 crisis is causing considerable business continuity issues for our members who are affected, for example, with cross-border and intra-country freight delays of incoming raw materials and outgoing finished product,' the association noted. It added operational challenges resulting from the quarantining of staff are causing major issues.
Interruption in the supply of packaging manufactured by members will result in supply chain delays and availability issues, in particular of pharmaceutical and food products, warned ECMA.
'ECMA is calling for an immediate suspension of all pending and new tenders issued and that existing commercial arrangements are extended whilst the COVID-19 crisis continues to challenge all sectors of industry; this delay will allow our members to focus on business continuity and their essential role in keeping the pharmaceutical and food sectors supplied.'
ECMA has further called for an immediate suspension of all scheduled BRC Global Standards audits.
'ECMA is asking for an immediate suspension of all scheduled audits, with existing BRC Global Standards certification arrangements extended for 3-months whilst the Covid-19 crisis continues to challenge all sectors of industry; this delay will allow our members to focus on business continuity and their essential role in keeping the pharmaceutical and food sectors supplied.'
Intergraf, the European federation for print and digital communication, has called on EU authorities at national level to recognise printing as part of their essential services. 'If the printing industry is not permitted to function as usual and denied financial assistance, access to raw materials or other support, authorities risk that indispensable products are not produced.'
Specifically, Intergraf noted printing of food, hygiene products and medicines as an area of concern, with printers producing printed food packaging 'more crucial than ever' as supermarkets come under increased pressure to make sure shelves in shops are kept full for consumers. The same applies to hygiene products, according to Intergraf, while pharmacies must be guaranteed an uninterrupted supply of medicine
Further, labels, posters and information folders act as important communication tools, giving clear and barrier-free information to citizens and to explain important measures, and to help to avoid direct contact at critical places and structures.
'Avoiding disruptions to key value chains must be prioritised, and the communication of public health information should not face any restrictions,' stated Intergraf.
'For the supply of packaging for critical products, of reliable information through the printed press and of printed books Intergraf and its members underline that it is critical that governments include the printing sector (NACE 18.1) and related supplying sectors as essential industry during the COVID-19 crisis.'
The Italian government has classified Koenig & Bauer Flexotecnica as a system-relevant manufacturer, meaning that the company is permitted to continue working at its facility in Tavazzano near Milan despite the nationwide lockdown that currently applies. This is cited as packaging for food and pharmaceutical products being deemed an essential factor in the efforts to maintain reliable supplies to the population.
Claus Bolza-Schünemann, president and CEO at parent company Koenig & Bauer, commented, 'We take our responsibility as a partner to the food and pharmaceutical packaging industry very seriously. And we have implemented all necessary precautions to safeguard the production capabilities of this enormously important industry.'
The company's spare parts warehouse is also continuing to operate, and spare parts can be dispatched from stock in the normal manner. Due to the current general restrictions, however, delivery times may be longer than usual in some cases.