Morgana targets packaging potential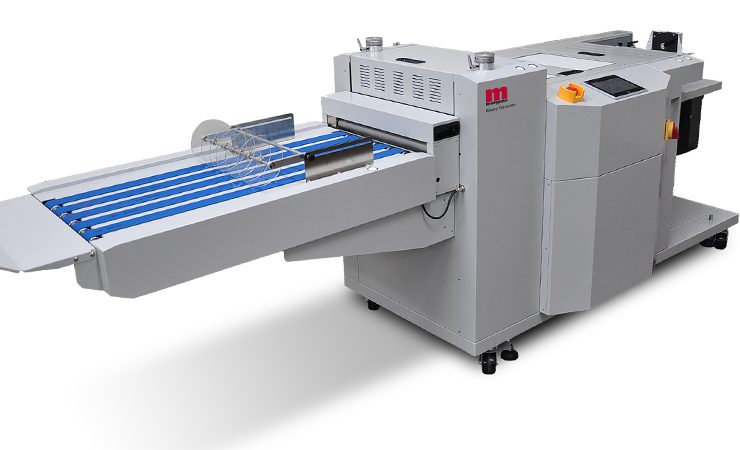 The Morgana rotary die cutter (RDC) will be highlighted at Packaging Innovations 2020
Morgana Systems is aiming to exploit potential opportunities for its technologies in packaging, and is exhibiting at this month's Packaging Innovations for the first time in pursuit of this goal.
Morgana Systems, a wholly owned subsidiary of Plockmatic International, is a UK-based digital print finishing specialist.
At Packaging Innovations, taking place at the NEC, Birmingham on 26-27 February, Morgana will showcase its rotary die cutter (RDC) and Valiani range of flatbed cutters.
Wendy Baker, Morgana Systems marketing manager, explained, 'We have decided to attend because packaging is a potential growth area for us; we have two great machines that fit into this market sector. Packaging Innovations as a show has a great reputation in the industry and is the ideal place to meet with UK-based packaging specifiers and producers.'
The cutting system of the Morgana RDC is composed of an upper magnetic cylinder, holding the cutting matrix, and a lower counter cylinder. A pin register system on the magnetic cylinder helps the operator to install the cutting matrix accurately. Side alignment of sheets is managed by adjustable straps, allowing the machine to maintain accurate sheet position.
An easily adjustable waste management system separates and diverts waste material whilst giving a consistent supply of the finished pieces to a conveyor delivery. The top-sheet, air-suction deep pile feeder ensures reliable sheet feeding, can accommodate up to 400mm of printed sheets, whilst an eight-inch touch screen user interface provides for fast and efficient job change overs.
Maximum sheet size for the Morgana RDC is 368 x 508mm, with a maximum die-cutting area of 361 x 472mm. Material thicknesses of up to 400gsm can be cut.
All Valiani flatbed cutter models feature a patented tool change mechanism. Tools can be changed in less than 30 seconds, moving from cutting to creasing, perforating, embossing, plotting, writing and drawing. These machines minimise waste and are suitable for a variety of applications including frame mountboard cutting, boxes and displays, contour cutting, embossing, stickers and making packaging protoytpes and mock-ups. The units are available in a vacuum version for demanding applications.
Ms Baker continued, 'The Valiani is suitable for a wide variety of applications including cutting boxes and point-of-sale displays. It is ideal for very short runs, for prototyping, or producing test-marketing runs of products. The Morgana RDC is ideal for short to medium run packaging, cards, or other custom shaped products.'
Label&Print 2020 is previewed in the January/February issue of Digital Labels & Packaging; register here to receive the issue, and more