Balanced Nature rebrands with digitally printed PP labels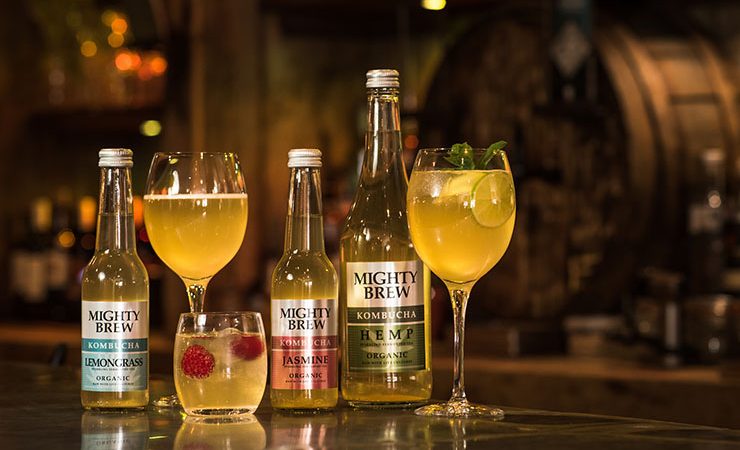 Balanced Nature's kombucha range is now known as Mighty Brew
Balanced Nature has refreshed its branding by moving to polypropylene labels digitally printed by label.co.uk.
The UK company, a kombucha micro-brewery, was founded in 2016 near Winchester in Hampshire. It is dedicated to ethically sourced organic and vegan products. Balanced Nature produces the tea-based drink, which is mixed with sugar and fermented using a 'Scoby', a symbiotic culture of bacteria and yeast. This transforms the tea into a tangy, fizzy drink whose popularity is steadily rising. According to Adroit Market Research the global kombucha market value topped $1.24 billion in 2018 and is likely to significantly increase by 2025. The biggest market for kombucha is the US where it's been established for almost 10 years and is readily available. And while still relatively new in UK, consumption is expected to grow tenfold by 2025 compared to 2016.
Balanced Nature aims to capitalise on such predicted growth. The company started with six flavours ¬– hemp, linden, jasmine, lemongrass, pu-erh and sencha. Moreover, it is the only kombucha brand in the UK to use botanical flavours instead of infusing with fruits for flavouring.
Balanced Nature co-owner Peter Gasiorek said, 'We are passionate about creating great food, making sure that we use only the best organic and raw ingredients provided by Mother Nature. Kombucha is a natural and refreshing alternative to excessively sweetened drinks and also promotes a healthy lifestyle with its probiotic properties.'
Its initially branding was matched with labels printed on a natural, artisan paper stock rather than a standard smooth paper, although this would prove troublesome in the supply chain. The brand had an overhaul earlier this year when it changed its beverage name to Mighty Brew to better fit into the alcohol-free drinks market, as opposed to only the health and wellness category. This included new labels.
'With our first set of labels we chose digital label printing as it's great for smaller quantities,' explained Mr Gasiorek. 'label.co.uk was very competitive and had a good reputation. We found our initial labels were taking in too much water during processing which affected their suitability for refrigeration. label.co.uk handled this very professionally and we found a solution that still represented our brand values. This gave us the reassurance to use label.co.uk a second time for our rebrand.
'With the new designs, label.co.uk has successfully used metallic film for a foil effect on polypropylene, which we are really pleased with. The labels are fully waterproof and transport well.'
A division of CCL Label, label.co.uk is an online, roll label manufacturer producing premium custom printed labels for brands and businesses large and small. Its offer includes digital label printing with premium embellishments such as hot foil stamping.
Balanced Nature produces 3-4 kilolitres of kombucha per month and is now scaling up ready to produce 20-30 kilolitres per month as of next season. The company also gained Salsa Accreditation, which gives them approved supplier status to be able to sell into supermarkets and other key outlets. Currently Balanced Nature products can be purchased online or at many independent food and drink outlets, at Planet Organic and in selected bars and restaurants. Availability in supermarkets is to follow soon.