Poligrafica installs DG Italia Rainbow²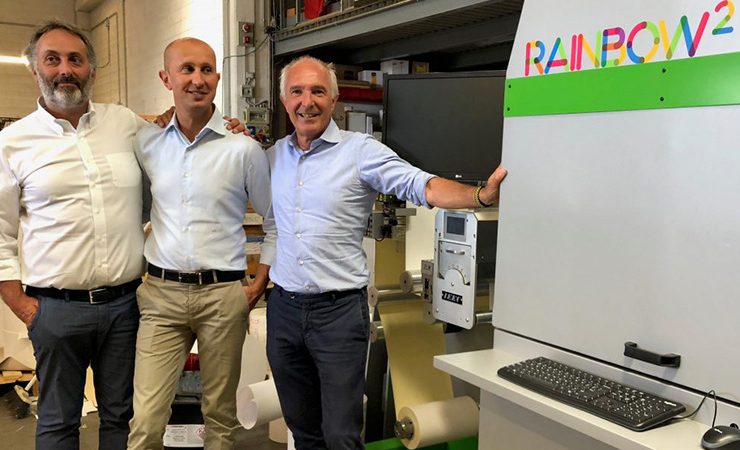 Pictured (from left): DG Italia CEO Cosma Roberto Vercelloni, and Fabio Facchinetti and Marcello Pasinetti, Poligrafica
Italy-based printer Poligrafica has installed a Rainbow² variable data printing (VDP) system from DG Italia.
Fellow Italian company DG Italia is a manufacturer of offset and digital printing technology. Its digital products include production-level digital printing systems and imprinting technology.
The Rainbow² line sees a digital printing module configured inline with analogue finishing. It can be integrated with any conventional press technology. Rainbow² uses Kyocera's drop-on-demand piezo electric variable drop inkjet technology from 30kHz (UV) and 40kHz (WB), and can print on a wide range of non-porous substrates, including plastic films, aluminium and other media. It uses water-based UV inks, curable with both LED and with UV lamps, in four-colour with the option of spot colour, paint and opaque white.
The printing speed is variable depending on the print resolution, for example around 75m/min at 600 x 600dpi
The Rainbow² line at Poligrafica includes corona treatment, web cleaning system, CMYK+W inkjet printing, inline flexo printing, cold lamination, semi-rotary die-cutting and double rewind shaft. The inkjet module features automatic printhead cleaning.
Poligrafica as a company uses analogue and digital technologies to produce a number of printed products. Rainbow² allows it to expand its offering in label printing and flexible packaging.
In a joint statement, the owners of Poligrafica, Marcello Pasinetti and Fabio Facchinetti, said, 'We realised that the market requires finishing operations and increasing levels of service that we cannot satisfy with traditional flexo, typographic and offset machines. After two years of research, we found in DG Italia the Italian company able to guarantee not only a high-quality product, which responds to new needs, but also high-profile assistance.
'What we agreed with Cosma Roberto Vercelloni [DG Italia CEO] is a configuration that allows excellent competitiveness not only on small and medium runs with many variations, but also on medium and long runs.'
With the installation at Poligrafica, DG Italia is able to actively promote Rainbow² to both local and international customers.
Mr Vercelloni said, 'I see the purchase of Rainbow² by Poligrafica as the beginning of an industrial automation process, in terms of Industry 4.0, thanks also to a complete and innovative software for file and colour management. This allows the implementation of the entire process, where only one person will be able to manage multiple machines simultaneously.'