Orion Labels reports success with hybrid press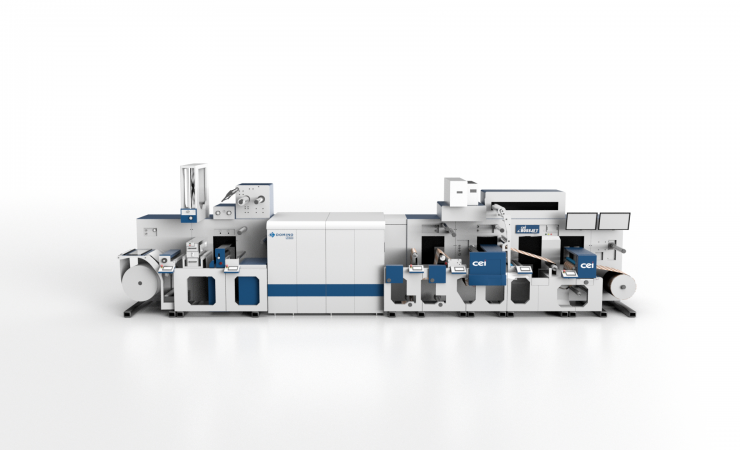 The CEI BossJet powered by Domino combines flexo and inkjet technologies
US printer Orion Labels has claimed itself as 'poised for greatness' following the initial success it has reported after investing in a 'CEI BossJet powered by Domino' hybrid press.
Orion Labels is a Wisconsin-based manufacturer of custom printed pressure-sensitive labels, roll-fed film labels, non-pressure sensitive labels, tags and specialty items.
The 'CEI BossJet powered by Domino' combines flexo and digital UV inkjet. The hybrid press was installed at the beginning of the year.
Since installation, Orion Labels has increased its efficiency and improved its profit margin on existing short-run/high-SKU business, while freeing up capacity on existing flexo presses for longer, less-complicated runs. In addition, it has allowed Orion Labels to gain customers and projects for which it could not compete previously utilising only traditional flexo.
Eric August, partner at Orion Labels, commented, 'We got started like most people do with basic flexo equipment but realised that we were going to need to do something to start to differentiate ourselves from the competition that we have in this area. Our customer base was really showing a need for something outside the standard flexo printing.
'In walks Domino, in walks CEI. Once we started comparing them to other digital engines out there, it was just a no-brainer for us. It's gotten to the point where people want to run this piece of equipment, because it's new and it's exciting.'
Neil Vandenberg, a fellow partner at Orion Labels, added, 'We've noticed a definite difference for our bottom line because of the Domino and because of the CEI equipment. We're running things in a much more efficient way, we're running things in a much more cost-conscious way. That's a huge thing for our customers.'
Jonny August, director of operations at Orion Labels, emphasised, 'What excites us about this machine is that it allows us to enter new markets, and it's been really exciting to see how our operators have taken to this machine. It's made their jobs easier and they're running them in a fraction of the time.'