Water bottles sparkle for Christmas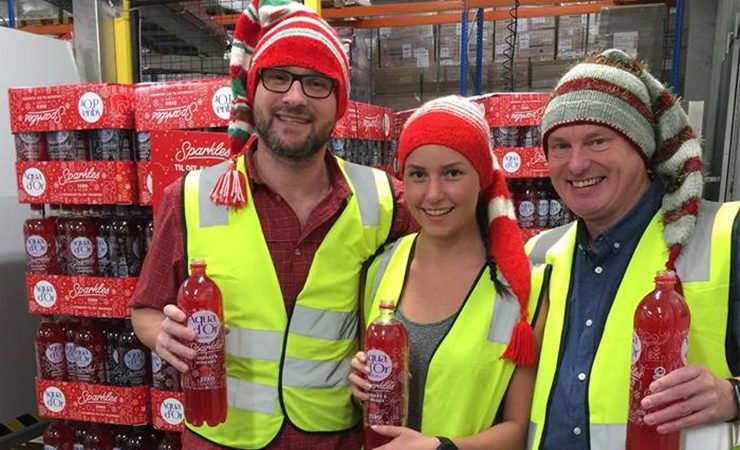 The Aqua d'Or team in festive spirits celebrating the new Christmassy bottles
Danone is marketing a holiday edition of its Sparkles flavoured water with unique bottle designs created by SmartStream Collage, HP Indigo's new automated variable design software. The wraparound labels were printed by Folienprint Rako, an All4Labels Group company, on the HP Indigo 20000 press.
The bottles feature winter-themed designs by Danish artist Emil Kozak. The 1.25 liter bottles, now available at retailers in Denmark, combine design elements such as snowflakes, reindeer, and candy canes to create 100,000 unique labels for two berry flavours of Aqua d'Or Sparkles water.
HP SmartStream Collage uses algorithms to create random combinations of specified design elements, thereby creating one-of-a-kind artwork. The variable design creates movement in the appearance of the bottles across the shelves.  
'Aqua d'Or is spreading some holiday magic with playful designs on its flavoured water bottles for celebrations using the new HP Collage design capability with HP digital printing,' said Line Giessing Jørgensen, brand manager at Danone. 'This new software technology provides brands with the opportunity to amplify the seasonality of their products in creative ways.'
SmartStream Collage is the next generation of HP Indigo customisation software, introduced to the market with HP SmartStream Mosaic. Last summer, Danone used Mosaic and Kozak's designs for its 'Flow Your Way' mineral water bottle campaign. The brand decided to try the new HP Collage at Folienprint Rako to create a new twist in variable design printing on its Sparkles product line, which uses plastic from 50% recycled materials.
'Brands can now bring a new experience using variable design element printing, including for seasonal products and flavours, and attract attention to their products. The HP SmartStream Collage design software for HP Indigo digital printing offers big new packaging marketing potential,' said Michel Koch, head of pre-press digital at All4Labels.
Collage gives brands, agencies and converters the ability to create endless variations of a set of basic elements defined by the user. These can include images, logos or text, then combined according to individual rules. It is a new capability of HP SmartStream Designer, a plug-in for Adobe InDesign and Adobe Illustrator.