Digital Etikett deploys HP Indigo 20000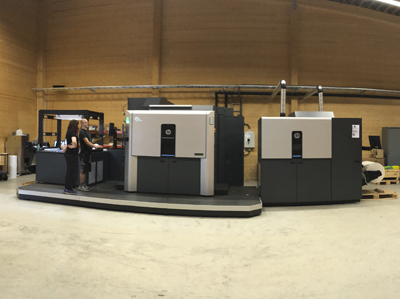 The HP Indigo 20000 digital press
Norwegian labelling and packaging specialist Digital Etikett AS has installed an HP Indigo 20000 digital press to double its output and diversify its service offering, with the aim to double company turnover within five years. This also represents a significant milestone for HP as it is the 1000th active label press in Europe.
The company began with an HP Series 2 4500. Since then, the printer has been loyal to the brand and to its supplier, Visutech; finding significant ROI in working with Series 3 and, now, Series 4 devices. With the new Indigo 20000 technology, the company is planning to diversify its labelling offering and move into new packaging markets such as flexible packaging and film.
With demand for digital printing services increasing by 43% between 2013 and 2018, the company has been keen to stay ahead of growing customer demand and technological innovation. Digital Etikett aims to select technology that will not only meet evolving requirements but allow the company to develop new product lines.
Since deploying the new press, output has doubled. The company's founder and managing director, Kjetil Hovland, expects to see revenues doubling in the next five years as a result. He commneted, 'Our future success depends on us being able to become more agile, handle bigger jobs faster and more efficiently, and diversify our offering rapidly. HP technology is helping us to do this. After visiting other customer sites in Denmark and Sweden we decided to go for Indigo technology and ABG – we have never regretted it. From a position of zero to a 4 million euro turnover, this is a great success story.'