Hybrid launches variable data printing software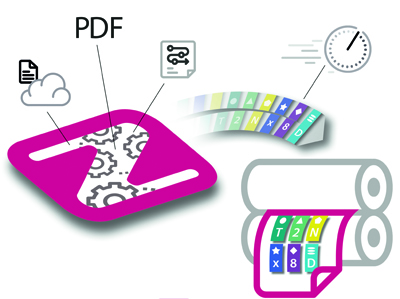 The VDP Prepare option can be used to turn any PDF package or label design into a VDP design 
After several years of development with key industry players, Hybrid Software has released variable data printing (VDP) for its Packz PDF editor and Cloudflow workflow  suite. 
Guido Van der Schueren, chairman, commented, 'With the rapid adoption of digital presses for labels, cartons and corrugated boxes, our customers needed a better solution for VDP preparation and output than existing offerings. Our development team stepped up to deliver a solution that is truly revolutionary by leveraging our native PDF technology and 'Live Objects' controls for adding customised content to a PDF file. Our VDP products are applied at the prepress stage, not in the pressroom, and eliminate the up-front template creation that slows down the other VDP solutions available today.'
The VDP Prepare option can be used to turn any PDF package or label design into a VDP design by indicating which elements (text, barcodes, images, colours, etc) are dynamic and linking them to a data source. VDP Prepare displays all iterations of the design and features tools for quality assurance. It is included for all users of Packz 5.0 and higher. Once the graphics are VDP-ready, the VDP Execute module is used to prepare an optimised PDF file that is ready for digital output. VDP Execute is available for both Packz and Cloudflow.
Mr Van der Schueren added, 'Hybrid Software's VDP tools produce a PDF file that is ready for digital printing, which keeps our customers' expensive digital presses running and making money, not waiting for VDP files that are generated at the press. This optimised PDF output is device independent and has been extensively tested with the most common digital presses available today. We're ready to fill the need for a VDP solution for labels and packaging that is both powerful and easy to use.'