OKI launches colour label printers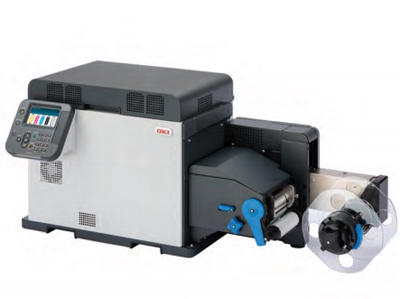 The Pro1050 prints in CMYK plus white 
With the launch of two new label printers, the Pro Series 1040 and 1050, OKI Europe is expanding into the label printer market.
The Pro1040 and Pro1050 are designed to help businesses create eye-catching labels quickly, easily and cost-effectively. The narrow-format label printers have been developed specifically for the growing market for on-demand label printers that is easy to set-up and requires minimal training to use. 
Intended for in-house use, customers will benefit from a wider choice of label designs with a lower print-volume/high SKU mix, reduced pre-printed label stock and reduced wastage.
The Pro1040 prints in CMYK, while the Pro1050 adds white to the process colous. Users can print on a wide range of media, from textured papers to synthetics, with white, clear, opaque or coloured substrates. The printers can also create waterproof labels, ideal for industrial chemical labelling, asset tracking labels, outdoor-use labels, freezer and cold-storage labels, or labels for packaging, beverages and household goods.
Dennie Kawahara, managing director, said, 'This development in print technology incorporates diverse media capability, creative and flexible design and cutting-edge LED colour technology. The Pro1040 and Pro1050 are highly versatile devices that will create a wide impact across various industries, whether used in-house or by print businesses to increase print for profit.'