Xeikon unveils new dry toner developments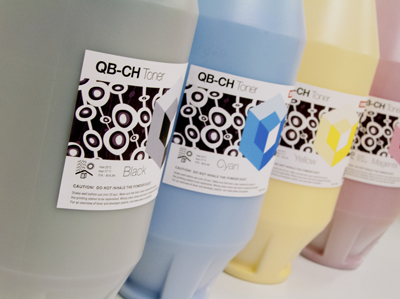 The QB toners are available in several different formulations 
After 30 years of dry toner research and development, Xeikon has revealed its latest dry toners. The new QB toner replaces QA-I and ICE toners for the 3000 series and Cheetah digital label presses and is now being shipped. 
'Xeikon is always concerned with ensuring its dry toner products meet all regulatory requirements, including food safety,' said Filip Weymans, vice president of marketing. 'Dry toner continues to be the preferred technology for food-safe digitally printed packaging, and we continue to monitor regulatory changes to ensure continued compliance, future-proofing these solutions. Many label printers are already using our digital presses for food-related applications, and this new QB toner will ensure they stay at the forefront of regulatory compliance.'
The QB toners are available in formulations that require high temperatures for fusing (QB-I) and lower fusing temperatures (QB-IC and QB-CH). These are designed to be compliant with current and emerging regulations. The company has replaced or omitted compounds in the toners that may potentially be affected by future regulatory action. 'We have also removed components from these new toners that could lead to misinterpretation, such as tin,' Mr Weymans added.'
Existing customers will be able to upgrade their presses in early 2019.