Jet Label & Packaging purchases Canada's first HP Indigo 8000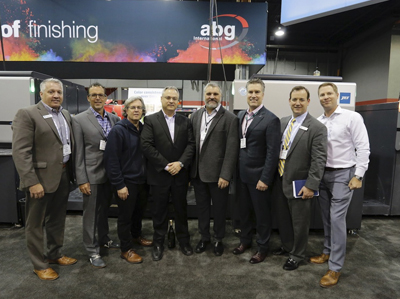 Executives from both Jet Label and HP celebrating the purchase at LabelExpo Americas
Western Canada's largest producer of labels and printed tape for a broad range of industries, Jet Label & Packaging, has become the first label manufacturer in Canada to invest in an HP Indigo 8000 digital press. Scheduled to begin operating in mid-October, the addition doubles the company's digital capacity and allows it to print longer digital runs.
The company already has two HP Indigo WS6600 digital presses running at full capacity. However, digital job orders have increased, as have their typical run length, leading to the decision to expand and enhance Jet Label's digital printing capacity. 
Currently, more than half of the company's digital jobs surpass 30,000 linear feet. The HP Indigo 8000 can print up to 80m/min and will help ensure the company continues to keep to its promise of delivering orders within four business days.
'Quality and expedience are always our top two concerns. In addition to superb colour matching and vibrancy, HP Indigos also provide high-res-capable graphics and easy versioning, both of which are increasingly in demand,' said Darrell Friesen, president and CEO. 
At its Edmonton facility, the label manufacturer will be dedicating a special digital wing to accommodate its four Indigo engines, as well as two inkjet solutions for very short runs. 
'This was more than an aspirational purchase – the demand is already there, and we're simply meeting it with supply to spare. The new press, as well as creating a standalone digital department, allows us to better meet today's needs and handle continued anticipated growth,' added Mr Friesen.