Anglia installs Daco finishing to complement Domino press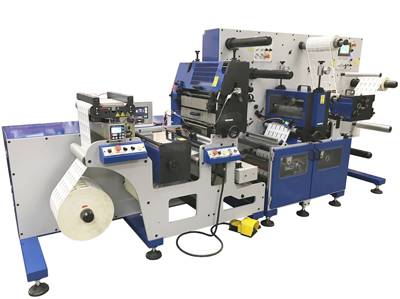 Installation of the DF350SR was completed in late February, with another due for install in November
Suffolk-based Anglia Labels has invested in a Daco DF350SR semi-rotary die-cutter to work alongside its recently installed five-colour Domino N610i UV inkjet label press.
The company uses a variety of printing technology, including UV flexo, letterpress and toner-based digital, and supplies a wide range of industries such as industrial, agrochemical, chemical, food and drink, retail, automotive, security, household and medical.
Ian Woodhead, managing director, commented, 'Once we had decided to purchase a Domino press we had to find the right partner for a finishing unit. With over 3000 semi-rotary cutters in our library, it was important that we found a finishing machine that could utilise our cutters. After visiting Labelexpo in Brussels we narrowed our search down to four companies.'
Mr Woodhead visited Daco Solutions to discuss the finishing options on offer. Whilst at the factory, a site visit to Beverley-based Applied Label Solutions was arranged to see a DF350SR in operation.
'We were looking for a well-manufactured unit that would serve us well, be robust, offering varnishing and laminating as well as semi-rotary and full rotary die-cutting, and at the right price. The Daco ticked all of these boxes,' said Mr Woodhead.
A Daco DBS back scorer, RotoMetrics hydrajacks, laminating and spot varnish to register was added to the standard machine. Installation was completed in late February to coincide with the installation of the Domino press.
Mark Laurence, Daco sales manager, added, 'It is the second installation of a 350SR we have sold to complement a Domino N610i series machine. Within a few weeks of installation, Anglia Labels ordered a second 350SR from us for installation in November.'