Focus demo machine installed at IIJ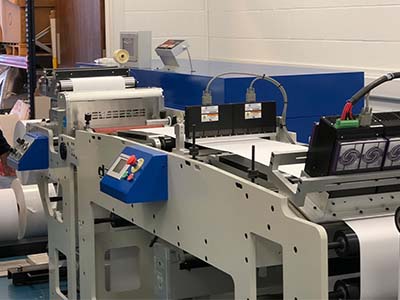 The new demo press at IIJ
Industrial Inkjet (IIJ) has recently taken delivery of a new d-Flex press from its long-time partner Focus Label Machinery Ltd. This will be configured with inkjet printing modules and used for customer demonstrations at IIJ's facility in Cambridge. 
The dual servo-driven system is capable of mounting two inkjet print engines to print high-opacity white and high-quality colour at speeds of up to 100m/min in full colour or 200m/min for single colour variable data.
After the successful delivery of the base, IIJ will install one of its ColourPrint HiQ modules, which use Konica Minolta's KM1800iSHC printheads and is compatible with most UV and water-based inkjet inks. It offers a native resolution of 600dpi, but by utilising asymmetric screening technology can achieve over 1000dpi apparent resolution, making the most of the small 3.5pl drops. The system will also be fitted with a UV LED curing systems from Phoseon Technology.