Conference attracts brand owners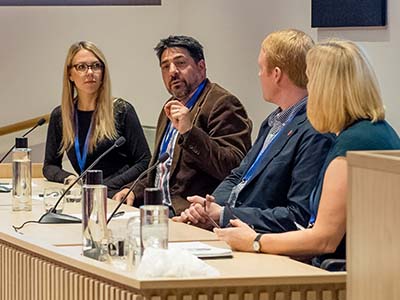 A panel debate discussed the future of digital
With Unilever, Pladis Global, P&G, Mars Wrigley and Britvic among the many brands owners in attendance at the fifth Digital Print for Brand Success conference in London in early November, the event is fast becoming a focal point for packaging specialists wanting to learn more about the digital.
The keynote presentation came from Matthew Brown, Echochamber, who shared his wealth of knowledge of the retail sector. He demonstrated how brands are changing their stores to offer new and inspiring experiences for their customers by putting them in the centre of the action.
After their individual insightful presentations during the morning, Greg Bentley, global primary packaging director at AB InBev, Trevor Smith, managing director of Amberley Adhesive Labels, and senior strategist at Bulletproof Kata Cserveny participated in a panel discussion on the future of digital.
The audience joined in, keen to share their own experiences and views of how best to leverage the power of digital print for labels and packaging, as well as drill down into how the speakers thought future campaigns might be implemented. 'We could have continued this debate all day,' commented editor Neel Madsen, who was chairing the conference, 'and it is clear the conference is fulfilling its objective of providing a forum for debate and help push the technology forward.'
The programme continued with more talks covering connected packaging, sustainability and digital print, digital foiling and folding cartons, while the networking breaks also offered an opportunity to look at the Printer Innovation Zone.
Read the full report in the November/December issue.