S-OneLP sets up shop in the EMEA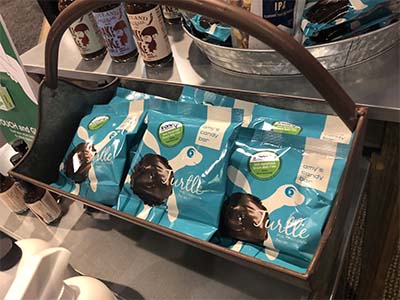 Examples of packaging on the S-OneLP booth at Labelexpo Americas
Florida-based S-One Labels & Packaging is expanding its reach into EMEA. The company provides offline, inline and custom primers as well as over-print varnishes and custom coatings. 
In addition to offering products like Michelman's DigiPrime and DigiGuard in select countries, the company will present a growing list of products for digital labels and flexible packaging to the entire EMEA region.
In terms of logistics, the company is moving from the BMG Media warehouse in Saint Witz, France, to Nijmegen, in the Netherlands, which will help shorten lead times and improve service. This new warehouse also enables it to carry other chemistries in addition to water-based products.
'S-OneLP's mission is to understand our label and packaging converters applications, bring them critical information and provide optimal product solutions to help them serve their brand owners,' said global vice president Ralph Giammarco. 'This expansion into the EMEA market will allow us to work with our customers to shorten time to market and to create innovative label and packaging solutions for important areas like durable labels, security, sustainable solutions and flexible packaging.'
The company has appointed Gerard Geurts, formerly of HP Indigo, to lead business development in the region, He will be based in Maastricht, the Netherlands, and primarily focus on working with S-OneLP's technical team and strategic partners to develop and bring to market new solutions for label and flexible packaging converters.
'Gerard has been a global leader and a major innovator, successfully collaborating with HP Indigo printers and suppliers over the years,' said Mr Giammarco.