Thai printer installs full spec Digicon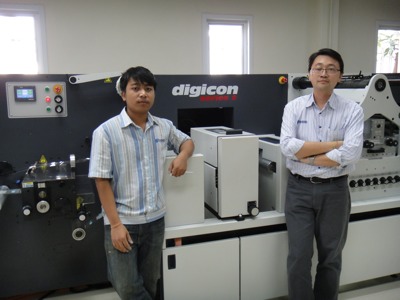 From left to right, Saentawee Joampanga, Operator and Thanate Silpsamrit, managing director.
AB Graphic International has installed a Digicon Series 2 label converting line at Thai Prasert Labels Company, Bangkok.
The system was supplied through Techno Global Graphics and will be used to convert high quality, labels for the food, beverage, pharmaceutical and beauty and personal care markets.
The full specification machine represents a considerable investment and reflects the company's commitment to the digital print market. The line is equipped to convert a range of complex label designs and includes coating and a print face inspection system.
'We made the decision to buy the Digicon for various reasons,' said Thanate Silpsamrit, managing director. 'The market in Thailand is changing. We are seeing more complicated jobs and more decorative requirements that need foiling or screen printing. In addition factors such as diverse ethnicity and population differences dictate the need for a greater variety of products. We offer a one stop solution and both print and apply labels to the product for some customers. Fragmented markets, small businesses and more SKUs mean we have much shorter run lengths than is usual for most countries and the Digicon is ideal for this.'
Founded in 2002, the company is located in Prawes, Bangkok, and is part of the Thai Prasert Group. 'We have been using equipment from AB Graphic International since we started up our operation and find it reliable and easy to use,' added Mr Silpsamrit. 'This and the fact that the equipment is very operator friendly mean it is easy for us to train new staff.'