New peel and reveal machine installed at CS Labels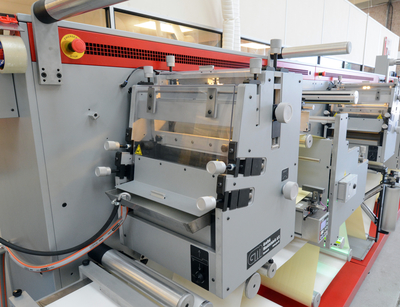 The new custom built GM machine at CS Labels
CS Labels has installed a new custom built label machine designed to finish and process peel and reveal digitally printed labels. 
The new finishing machine from Grafisk Maskinfabrik (GM) was built to the company's own specifications and was commissioned in answer to an increase in demand for digital peel and reveal labels, which the company already produces on an existing machine.
Peel and reveal labels are popular as they enable clients to print a large amount of information, instructions or different language translations on to a label where space is limited.
The new unit adds extra capacity CS Labels existing capability, in addition to extra features made possible by the machine such as printing text and images onto the actual adhesive and printing marketing and product information on to the backing paper of the label.
The press also has an accurate sensor gap capability that prints a black line/eye gap between each label, which allows the label to be used in a label applicator machine requiring this functionality, so that labels can be automatically applied to each product without manual intervention.
Simon Smith, CS Labels managing director said, 'We listen to our customer base closely, and are already catering for most of their needs as regards peel and reveal labels. This new investment adds an extra layer of icing to the cake and responds to their needs. Customers like the labels as they know that can fit more information in a smaller space, such as a multitude of languages, sales promotions, instructions and much more. And when you combine these factors with the advantages of digital labelling in general, such as the option of shorter print runs, less stock holding (less waste), fast turn-around times, lack of plates or unwieldy origination, better environmental factors and the opportunity to personalise labels or ranges of labels due to each label effectively being inherently unique, the end piece of packaging can be very powerful.'
Sales manager, Nathan Daniel, said, 'I think one of the most powerful case studies we have seen lately is from a chemical cleaning manufacturer that came to us with four different labels, printed in the traditional way. They had exactly the same label design and information, but with several different sets of languages on each label. With our help they have consolidated this costly exercise into one very attractive and extremely functional peel and reveal label. Because the labels offer an excellent use of space, they could also afford to include additional countries to reflect the new markets they plan to enter. And this is all in addition to the obvious benefits that going digital brings. For them, it was simply game-changing.'
The West Midlands digital label leader is the largest digital printer in Europe to use Xeikon technology and has continued to grow 20% year-on-year.